I went into Babesta in Tribeca with Little Miss the other day to have a look at the staff's Top 20 picks for the holidays. Think of Babesta as a part rocker glam, totally New York shop for kids. If you search #HipHoliday20 on Twitter, you'll see pics snapped at the event from other local bloggers.
I hadn't been to Babesta before, but it is now on my list as a go-to shop for presents for kids that are definitely not your stock standard. With lots of one-off pieces, old school toys, and new school built to last toy, its the perfect place to shop when you want to impress. Of course I spied a few clothes and toys that I'd like to pick up for the kids for Christmas. I'm not in the market for any big ticket items like strollers and cribs, but Babesta Cribz (Just around the corner from Babesta Threads at 56 Warren St, near Braodway) had that covered too. The best part is now that I've had a chance to go in and see the quality and service, I can now shop conveniently online at Babesta.com
Though they covered their top 20 picks, I've decided to pick out my absolute top 5 from that list. So here goes!
My Top 5 Picks from Babesta's #HipHoliday20
1. Snow Globe by Seedling Kids: I absolutely love Seedling kids and have purchased many of their kits in the past. They also have a special place in my heart because they are a New Zealand company. What better winter time activity than making your own snow globe. You mold the clay, bake it like a shrinky dink and then let it set. Later you add water and glitter and voila!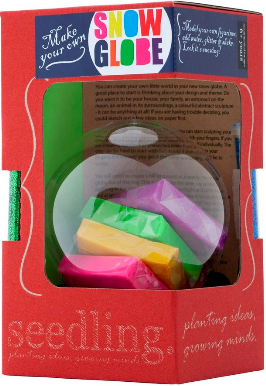 2. Loog Guitar: I love music as do my kids and I love encouraging them both to sing and dance, as well as try their hand with musical instruments. The combination of a crafty project with the end result being a musical instrument is just genius. I really like the idea of this guitar that started as a master's thesis project, then progressed to a Kickstarter project looking to raise $15,000 – he raised $65, 618. Amazing, eh? Must be the sign of a good product that the market really wanted.
3. Yoshitomo Nara My Sweet Dog Pull Toy by Vilac: Who doesn't love a pull toy? This cute little dog caught not only my eye, but Little Miss' as well. It was mentioned that because of its durability it would make a nice family heirloom. Manufactured in France by a super-groovy pop artist from Japan.
4. Face Book by Chuck Close (Abrams): Art is definitely another medium that I like to expose my kids to as much as I can. It's also a great way to bring them into my world and show them what I enjoy. This is one of several items at Babesta that are not your standard kiddy item, and so mom and dad will equally enjoy it too. Chuck Close is an American painter and photographer who achieved fame as a photo realist. Close suffers from facial blindness (can't remember faces) and has found that when he paints portraits he is better able to recognize people. This book is dedicated to such portraits. Having suffered a spinal artery collapse in 1988, he is paralyzed yet continues his art and continues to inspire.
5. Unicorn Head by DFC: Ok, this one is definitely out of my price range ($750), but I can't help but think what a talking piece a massive unicorn head would be in any room. In a child's room, their imagination would be limitless. The Mexican design duo casts some of the most amazing custom designed animal heads in glitter, gold, silver and any color you desire – I saw pink in the store.
Honorable Mentions – Items I Want For Me
I've uploaded a few pics from inside the store on the Mama Goes BAM Facebook page. Their were so many neat items from my childhood that I can't wait to share with my kids, like the Barbapapa tea set! Too cute. And I want the OMG pillows and 7AM Enfant gloves all for me!
You decide if his genetic marker for cool came from the X or the Y (probably both!), but he's a Babesta for sure if he snuggles up with Ugly Dolls and Pooki pets, and insists on mischievously modern furniture from standouts like Oeuf and Duc Duc New York.
Catch up with Babesta on Twitter and Facebook.