With Thanksgiving just around the corner, so begins a very hectic time of the year. Company parties and catch ups with close friends and family seem to be at an all time high. Though I can sometimes feel rushed in between all the shopping and parties, I feel lucky knowing that I do have family and friends that I am more than happy to see and catch up with. Even if we haven't seen each other much through the year, now is the time to sit back (normally with a wine or two!) and talk about the year's highs and lows, how much the kids have grown and what we are looking forward to in the new year.
Besides catching up with friends and family, another of my favorite holiday traditions is trading dreams and wishes for the new year with my husband, again often over a wine! Hickory Farms Gift Baskets are great to have on hand for the unexpected family visitor or to bring along to your husband's office Christmas party. You know, that time when you want to come bearing presents but you have no idea what to bring.
I got to try out the Family Favorites Gift Basket which is a classic collection of Hickory Farms Signature Beef Summer Sausages and creamy Farmhouse Cheddar and Smoked Cheddar cheeses, complemented by Olive Oil & Rosemary  Crackers. The Mini Melt Away Mints were an unexpected treat.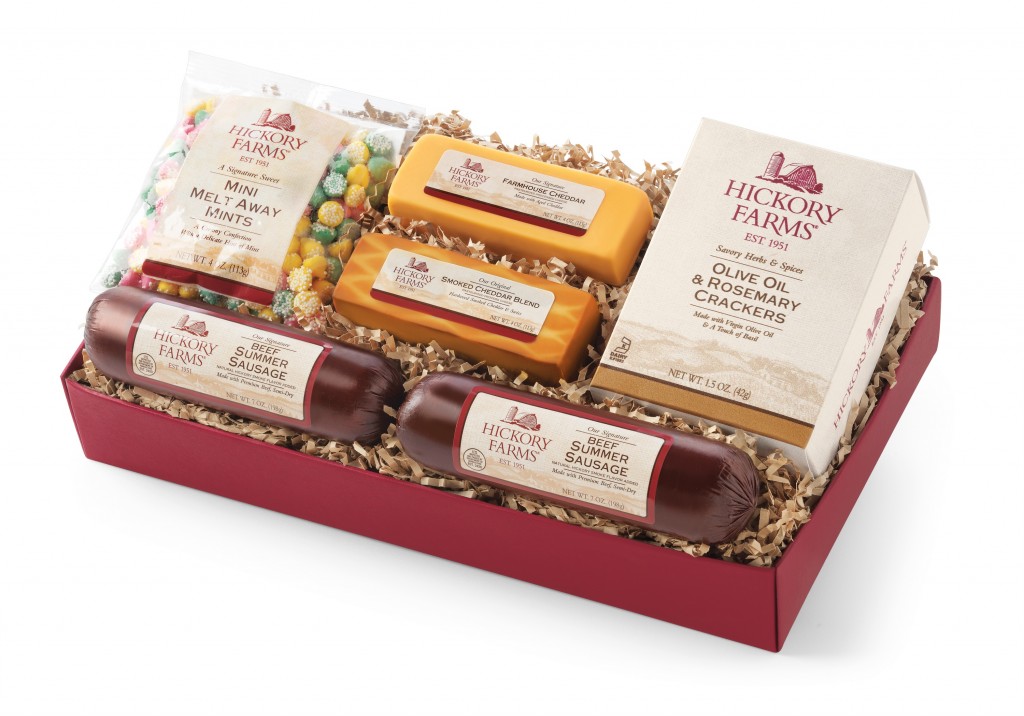 We have had more than one use out of this Gift Basket. First, we did have a bit of a dreamy night with crackers and cheese that pair so nicely with red wine. As I am the chocoholic in the house, I have to confess I had the minty melt aways all to myself. The best thing is we've also used in the cheese in omelets and quiches as their is more than enough to go around.
For more than 60 years Hickory Farms gifts have been a classic holiday tradition that brings family and friends together. Many Americans have a distinct memory of Hickory Farms at their holiday gatherings; Hickory Farms is very proud to be a part of those nostalgic moments and continues to focus on and celebrate its long heritage of tradition and authentic holiday memories.
If you'd like to add Hickory Farms to your Holiday Family Traditions, you can purchase their gift baskets online at Hickoryfarms.com, in their 700 holiday stores and kiosks across North America, as well as in select retailers.
Win it!
Hickory Farms is also giving Mama Goes BAM readers the chance to win a Gift Basket just like the one pictured above. It is a tasty treat just in time for the holidays. In order to enter, please use the Rafflecopter below. The only required entry is your email so I can contact you if you win. Of course, the more ways you enter, the more chances you have of winning. Good luck!
Disclaimer: Compensation and products for review were provided by Hickory Farms via MomTrends. I received a free sample of the product for the purpose of this review and to facilitate a giveaway.  The opinions expressed herein are those of the author and are not indicative of the opinions of Hickory Farms.