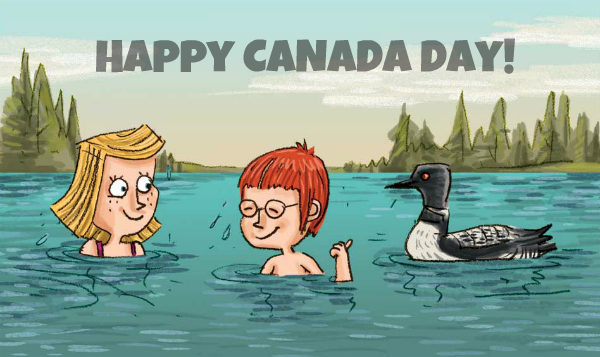 Most of you know I'm Canadian, eh?
I as born and raised in Montreal and took off to New Zealand after University to find myself. Ok, not really to find myself, but I had a teaching degree, yet hadn't done much traveling and didn't feel I could 'teach' if I hadn't yet really lived so I gave myself a year to live life before getting a real job. That was back in 1999 and since then I have lived in New Zealand, back to Canada, then back to New Zealand and now here in New York.
Of course, you can imagine Canada being the country of my birth holds a special place in my heart. As Monkey #1 starts to be more aware of his surroundings and the fact that Santa now comes in a sleigh at Christmas as opposed to on a surf board at the beach (yes, he did in New Zealand), it is fun to teach him more and more about his heritage.
The Hey Canada book is a trip through Canada with cousins Alice and Cal – 8 and 9 respectively – and their Grandmother. Their are pictures, songs, silly poems and even tweets along the way. They start in Newfoundland in search of everything from moose to icebergs.
My wee guy is a freak about maps and flags so he can look at The Big Picture map for hours on end while I try to explain the differences of each region. Their is also a page with all the provincial maps at the back.
This is a super book to pick up and read sections at a time and gives a light and informative insight into Canada. Perfect timing if you wanna get a Canadian culture injection in time for Canada Day (July 1).
Author Vivien Bowers was born in Vancouver and was a grade 5 teacher and has been a freelance writer for more than 25 years. An awarded writer, she now lives at the base of the mountains outside Nelson, BC.
Award winning illustrator Milan Pavlovic holds a Master's degree in illustration.
For more information about Hey Canada visit Tundra Books online
Ever been to Canada? Where did you enjoy or where would you like to go?