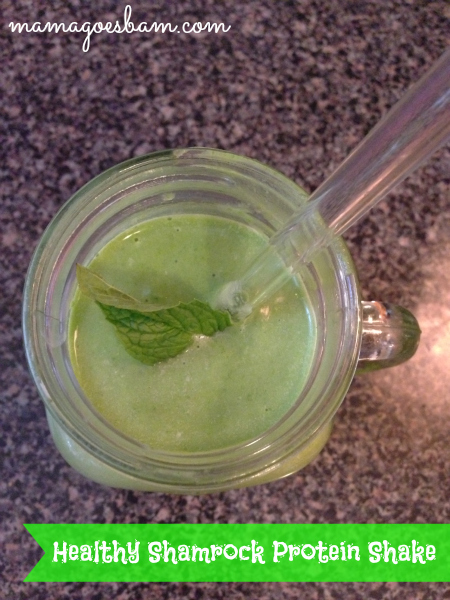 A little while ago I posted a DIY shamrock shake recipe for all of you addicted to the seasonal McDonald's drink. I have to admit that I had at least 3 in about a week and a half span. Two out of three were also topped with a generous topping of whipped cream and sprinkled in green sugar! No wonder I'm now a Shaklee 180 blogger 😉 So today I bring you a healthier version that you can mix up on St Patrick's Day before you hit the St Patty's festivities. You can use any protein mix that you have for pre or post workouts. I've had this smoothie after a run, and the best part is that the kids like it as much, if not more than the sugary alternative.
Ingredients
2 cups of fresh spinach (frozen is okay, but I don't find it blends as nicely)
1/4 tsp of peppermint extract
half a medium avocado
2 scoops of protein powder ( I use the Shaklee 180 Vanilla mix)
8 oz Fat Free 1% Milk
6 ice cubes
This smoothie can come in at about 440 calories, which may seem like a lot for a smoothie. But, in reality with 2 cups of spinach  it is reeeeally filling and tasty too! You'll find yourself sipping on it through your morning snack time.  The avocado gives it a nice creamy taste and a color that you can't help but smile at

As I said before, both Little Miss and Mr P were stealing sips. Um, no, this is mama's breakfast! With the aount of exercise I do, I prefer a little more "oomph" to my milk and so I always opt for 1% over skim, but the choice is all up to you, just adjust your calories accordingly throughout the day. You'll achieve the same creaminess as long as you have the avo (good fats!) and the peppermint extract for taste (yum!). Blend it all up and voila! You've got a decadent flavor packed with protein, good fats and fiber.
Blend it all up, top with fresh mint and pop your favorite straw in and enjoy!
What healthy nosh is on your St Patty's green list?