Overnight oats are a tasty, nutritious and quick breakfast that anyone can add to their daily meals. Truth be told, I can eat overnight oats for days on end without it feeling boring. The great thing about overnight oats, is that the variation to toppings is only limited by your imagination.  You can make them sweet one day by adding fresh fruit and natural sweeteners, you can eat them plain jane, make them savory with the addition on nut butters or add-on extra protein like yogurt on a heavy workout day. Just think of anything that you'd add to hot oatmeal, the difference being you can whizz a bowl of these bad boys up in no time at all!
One of the many things that I learnt coming off my 6 months weight loss program with Shaklee 180 is that breakfast is so important. I know we've all heard it before, but for some reason this mantra has really stuck with me. I ate 3 balanced meals and 2 snacks per day and I lost 25 pounds and 16 inches (and it is still off  5 months later!). I think it is the noticeable increase in energy that I experience when I don't starve my body. After several hours without food overnight, breakfast is needed to jumpstart a body's metabolism for the day.
I'm always on the lookout for breakfast options that are no-brainers and protein rich, so the overnight oats is a winner in my books. If you like oatmeal and haven't tried overnight oats yet, all I have to say is GET.ON.IT! You will love it. Just like you I am busy, making lunches, getting kids to school, getting myself off to work and then trying to fit exercise in there. Not only are overnight oats easy, but you can take them with you if you absolutely must rush out the door before eating breakfast.
Basic Recipe is 1:1 oats and milk
All you'll need is 1/2 cup uncooked rolled oats, 1/2 cup low-fat milk (I like almond milk or oat milk) and an airtight container to soak the oats in overnight. I like these canning jars, but you could also use a tupperware type container. 

The basic recipe is to soak your oats in milk – easy, right? You can try your hand at a different liquid, but this is probably the standard and allows for a little extra protein and calcium in your breakfast. I've seen others change up the ratio so that it is 1:1:1 oats:milk: yogurt  – I prefer adding my yogurt as a topping just before I dig in. Usually the only other ingredients I will add before I leave it to soak is raisins and cinnamon. A teaspoon of cinnamon adds a sweet taste while benefiting weight loss by helping to break down carbs and the metabolism of sugar – all in turn helping you to feel fuller longer.
Just remember that anything you add to the soaking process will come out, well…soaked! So if it is better fresh and crunchy don't add it in til morning. Though they are called overnight oats, you only really need to soak them for a minimum of 3 hours to reap the benefits of this quick and easy healthy breakfast. I do also add a tablespoon of a ground up LSA (Linseed, Sunflower, Almond) mixture before I add on the lid and leave the oats in the fridge overnight.
In the morning, you will have the goodness of soft fluffy oats that are ready to eat as is. I can eat them without adding anything extra once they've soaked with cinnamon and raisins.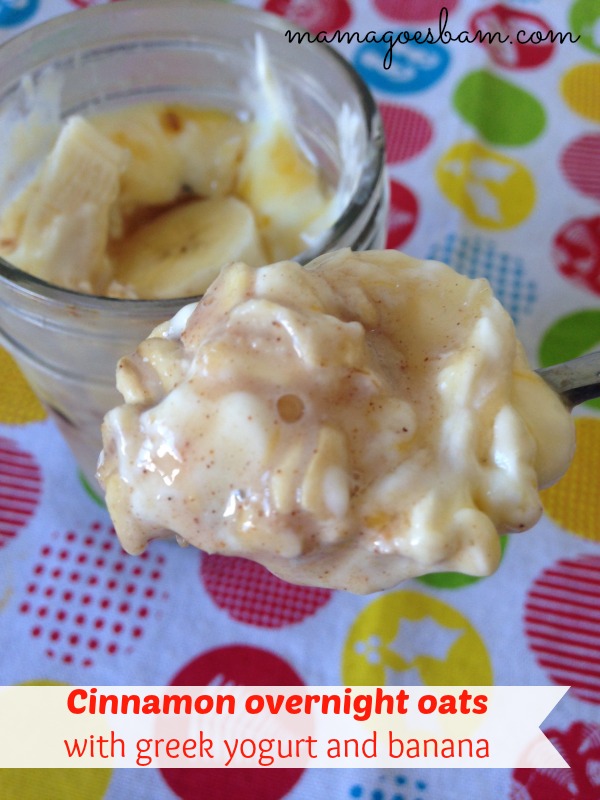 Benefits of overnight oats
tastes good
low in calories
saves times in the morning
starts the morning off on the right foot with a protein-rich breakfast
Cinnamon is good for suppressing sugar cravings
Greek yogurt has healthy probiotics and calcium, in case you missed the memo these are both good for you!
Ideas for Toppings
Fresh fruit like bananas, strawberries, blueberries and apple
raisins
almond butter and other nut butters
agave or other natural sugar
natural honeys and syrups
chopped nuts (if you are not allergic to nuts, like me!)
bananas
raisins
cacao powder or dark chocolate sprinkles
What's your go-to healthy breakfast on a busy day?