My 4.5 year old already has homework every evening. Though he only has his one homework book and a lunch box to keep track of, this can sometimes be hard to do. I imagine that by the time he starts school in September, he might need something like the Hanging Organizer by LockerWorks.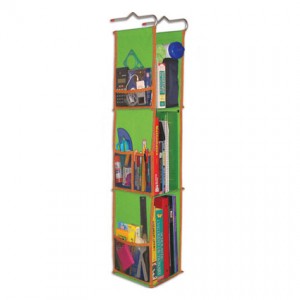 This nifty hanging organizer keeps books, crayons, and whatever else goes in the locker neatly organized.

Since we didn't have a locker to try it out in, we were able to hang it in the closet. We've added mainly books and a few arts and crafts supplies. It's nice to know where these are at all time now.
From the Organized Parent website,
This Hanging Organizer creates functional space in lockers and closets with three sturdy shelves and handy side pockets. Adjustable to fit full, half, or narrow lockers, it can hang from a shelf, rod, or hooks—even if the hooks are different heights. It's perfect for lockers and closets at school, work, or home. And with its bright colors, your kids will think it's cool.
If you are looking to put a little organization in your child's life, check it out.
I am also pleased to be offering you the chance to win one here. Simply fill out the easy rafflecopter below to go into the chance to win. The only required entry is your email address. Of course, the more times you enter, the more chances you have of winning. Good luck!