I was given the opportunity to enroll in Little Passports, a monthly subscription service that is a global online adventure for kids. Our family is rooted in travel – I met my husband in New Zealand while on a one year work visa after graduating from University in Canada. That happened in 1999, and since then my husband I have lived in 2 different continents, 3 countries and 4 cities while traveling in between all that moving. So travel is important to us, it is as much a learning experience (if not more!) as going to school.
Of course, attending school is important, so it is not logical (or affordable) to just pull Mr P out of school for jaunts around the world. But seeing as he and Little Miss have great-grandparent, grandparents and family in Canada (my parents) as well as great-grandparent, grandparents and family in New Zealand it is even more important for them to understand the world around them.
Our first month subscription box for the World Explorer Kit arrived and as soon As Mr P saw the blue suitcase, he loved it and wanted to know everything about it. We've drawn maps before to show him where his grandparents are in relation to us, but he's never had a wall size map. We spent a long time just looking at the map. Included was also a boarding pass with a secret code to a website full of fun activities, a passport, stickers, a welcome letter and a worksheet. Seeing as he is a pirate-in-training, he loved cracking codes and learning new words in different languages – this month was 'hello' in different languages. It was also fun reinforcement of his reading skills by reading the letter from the Little Passport's travelers Sam and Sofia.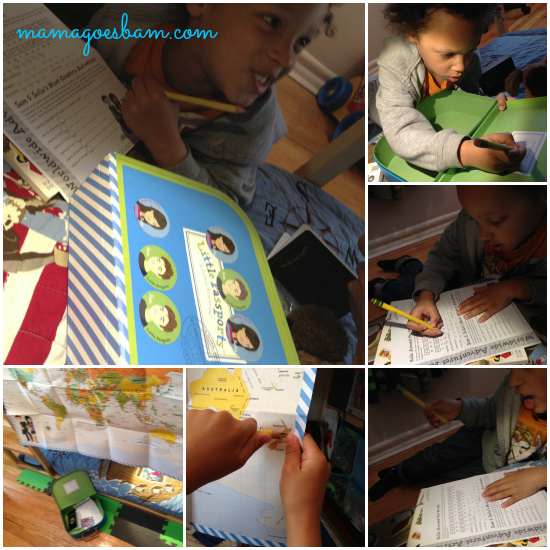 What do you get out of Little Passports
You can sign-up for the convenience of a  month-to-month plan or sign-up for a set number of months upfront. If you decide to sign-up or gift a set number of months upfront, you can also renew your subscription so your child doesn't miss out on any adventures. The recommended age is for 5-10 year olds, and I can say that my 5 year old really has enjoyed it. The map alone will lend itself to ongoing learning opportunities.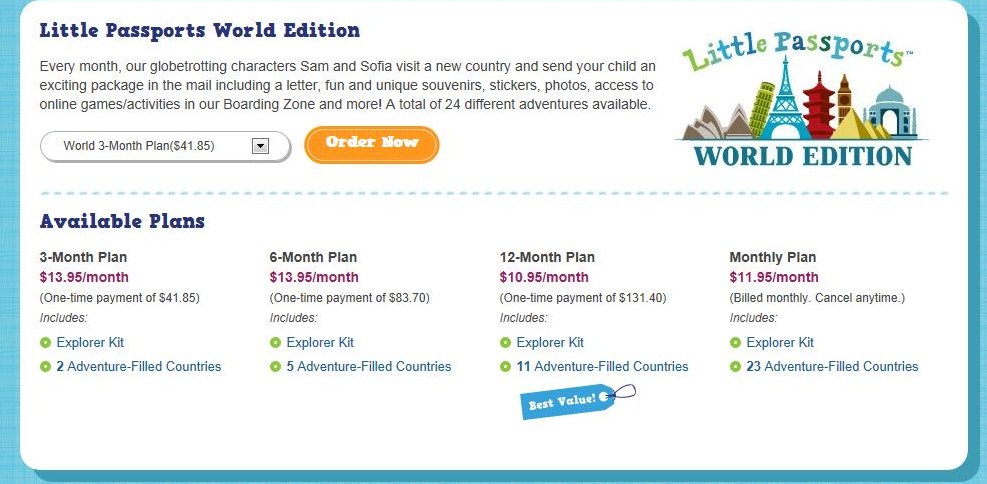 Here's just a quick peek at Mr P saying 'hello' in 3 languages. He already knew how to say 'bonjour' seeing as French is my second language, but he enjoyed learning how to spell it on the activity sheet.

Turn the volume on by mousing over the top left hand side of the above video! Click anywhere on the image to see it again.
I'd strongly recommend Little Passports as a fun way to introduce your kids to the world as well as to languages.
Do you travel with your children or introduce them to world concepts?
Find out more about Little Passports and sign up to be the first to know news of special promotions, fun facts, activities and more. You can even catch up with them on Facebook and Twitter.
disclosure: This review opportunity is presented by Mami Innovative Media and on behalf of Little Passports. However, all opinions expressed are my own.