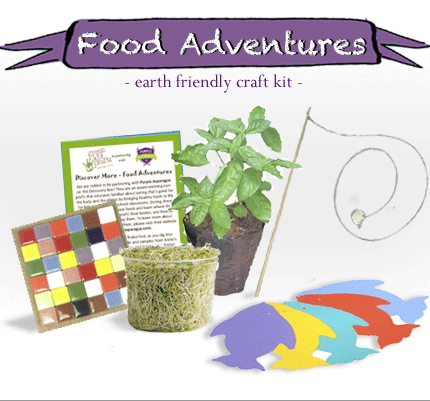 I had the chance to try out a Green Kid Crafts Discovery Box and the first thing that got my attention when I opened it was just how much was included. I received the November Discovery Box, and their was not only 1 or 2 projects, but 4! Truth be told we've had the box for well over a month and haven't completed everything yet. Two of the crafts include growing organic basil and alfalfa sprout gardens – we planted our basil and my son marvels at it everyday, watering it very carefully. We also created the fish game (from recycled felt) which has provided endless hours of fun. We've decided to hold off on making the rainbow tile coasters as this will be a perfect craft to do at Christmas time.
I would definitely consider buying a subscription again, as the past boxes look really creative and the monthly $19.95 subscription is definitely good value. You can check out some of their "best of" Discovery boxes on sale here and buy a one-off box for the holidays, as a gift or to take with you over the holidays. These are great crafts, with a mix of fun and learning opportunities.
For this "Food Adventure" themed box with crafts celebrating healthy eating, Green Kid Crafts partnered with Purple Asparagus, a nonprofit educating children, families and the community about eating that's good for the body and the planet.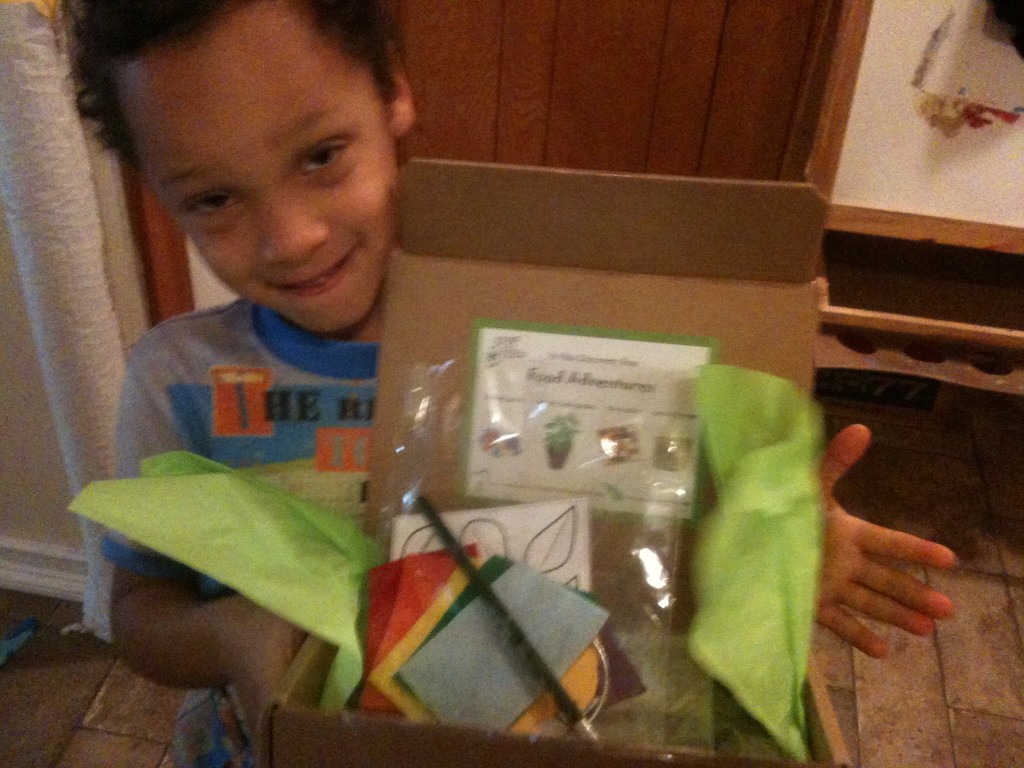 In addition, Green Kid Crafts partnered with Mambo Sprouts and some of their favorite (and mine!) natural food companies like Annie's, Stonyfield, Mary's Gone Crackers and Immaculate Baking to include samples and exclusive coupons for free healthy snacks — a $20+ value! Annie's cheesy snack bunnies went down a treat!
Every month's Discovery Box is packed with three unique and engaging activity kits designed to foster a child's creativity and confidence while developing their respect and love for the environment.
Green Kid Crafts Subscription, How it Works
Subscriptions are available in month-to-month, 3, 6 and 12 month durations, and also make great gifts! The monthly subscription cost is $19.50 and includes shipping. Order at www.greenkidcrafts.com.
Appropriate for ages 3-8, our projects are reviewed by experts to align with our Happy & Healthy Child principles, and kid tested and parent approved for fun.
Each month brings a new theme relating to nature or the environment; past themes have included I Love Bugs, Outer Space, and Feathered Friends.
In addition to the materials and instructions for the three craft activities, each Discovery Box includes a Discover More guide which provides more craft ideas using materials found around the house, related reading and other fun facts all related to that month's theme.
Discount Code for You
From now until 12/15, take 15% off your entire order at GreenKidCrafts.com with the code "BLOGGY". Green Kid Crafts has something for every kid on your holiday list, from Gift Subscriptions that keep the creativity going well into the New Year, to Holiday Ornament Kits. Check out our favorite Holiday Gifts here.
Catch up with Green Kid Crafts on Facebook, Twitter and Pinterest  for great crafting, green living, and balanced parenting ideas, as well as special contests and promotions!
About Green Kid Crafts
Green Kid Crafts is a mom-owned, green company that uses only safe, natural and sustainable materials.
Founded by Penny Bauder, a mom of two and an environmental activist from Alaska, Green Kid Crafts is certified carbon neutral, Green America Approved, a member of 1% for the Planet, and has won numerous awards and designations for its responsible business practices.
Every purchase you make with Green Kid Crafts supports sustainable business, and a portion of each sale is donated to environmental organizations.
You can also read more about our "eco ingredients" online.