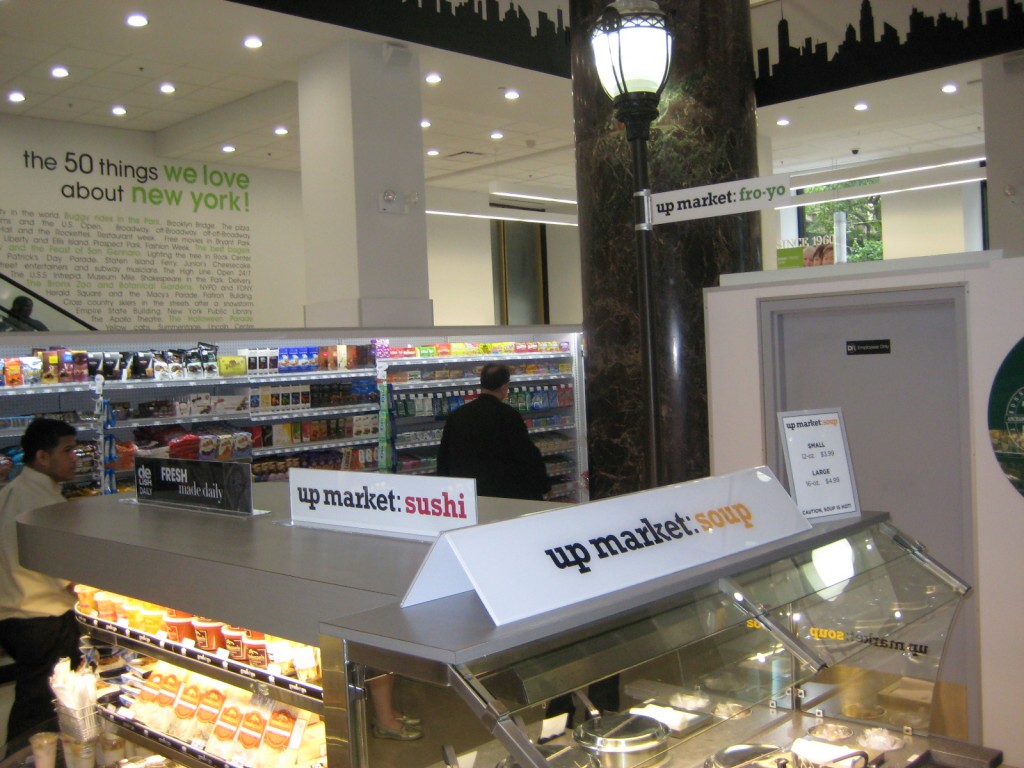 The Financial District has a new look Duane Reade at 100 Broadway with daily fresh food ideas from soups, to sushi and Frozen Yoghurt made specially for Duane Reade.
You can't help but notice the Fro-Yo station as soon as you enter the iconic 100 Broadway store. With 8 deliciously fresh sounding flavors greeting me by the entrance, it was hard not to pass it up with the heat we are having. Add to that fresh toppings like cookie dough and the usual candy toppings like sprinkles and smarties, a girl with a sweet tooth could get into some serious trouble! Even though it was my birthday the day I toured the Duane Reade at 100 Broadway, I was good and only had a small sampling of the Blueberry Pomegranate – let's just say it was yum! All the Fro-Yo flavors are proprietary to Duane Reade, created right here in New York by RonnyBrook Farm Dairy.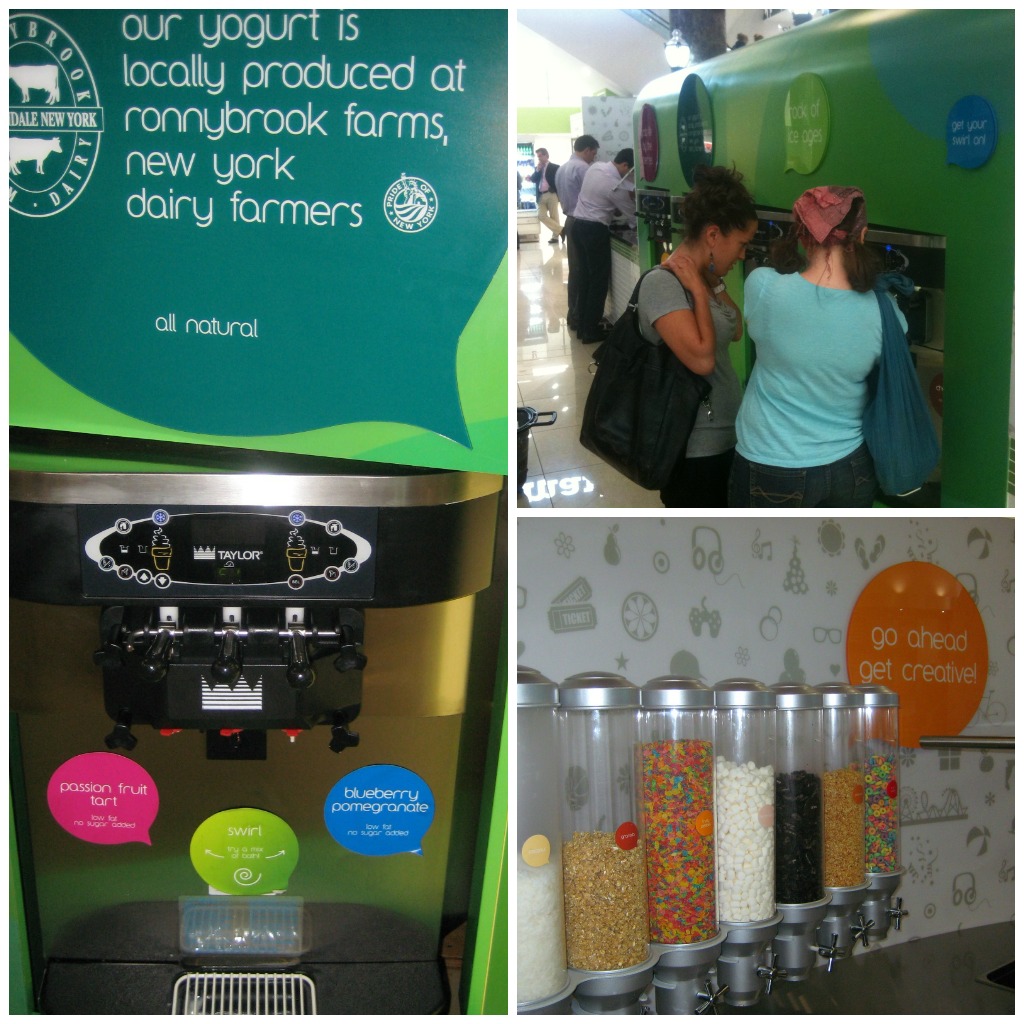 We could hardly believe it when we were told on the tour that the frozen yoghurt was priced by 2 cup sizes – the medium size $4.99 and the large $5.99. But wait…there's more! Toppings are included in the price, no weighing after you've created your monster fro-yo, just add the fro-yo flavors you desire, as much toppings as you can handle, bring it to the cash and pay. Easy-peasy! Many dessert restaurants (and just plain ole restaurants) are notorious for charging for frozen yoghurt and ice cream by the weight – no hidden costs here. Can you say "low-fat" and "plant-based sweeteners"? Yes, this stuff is good.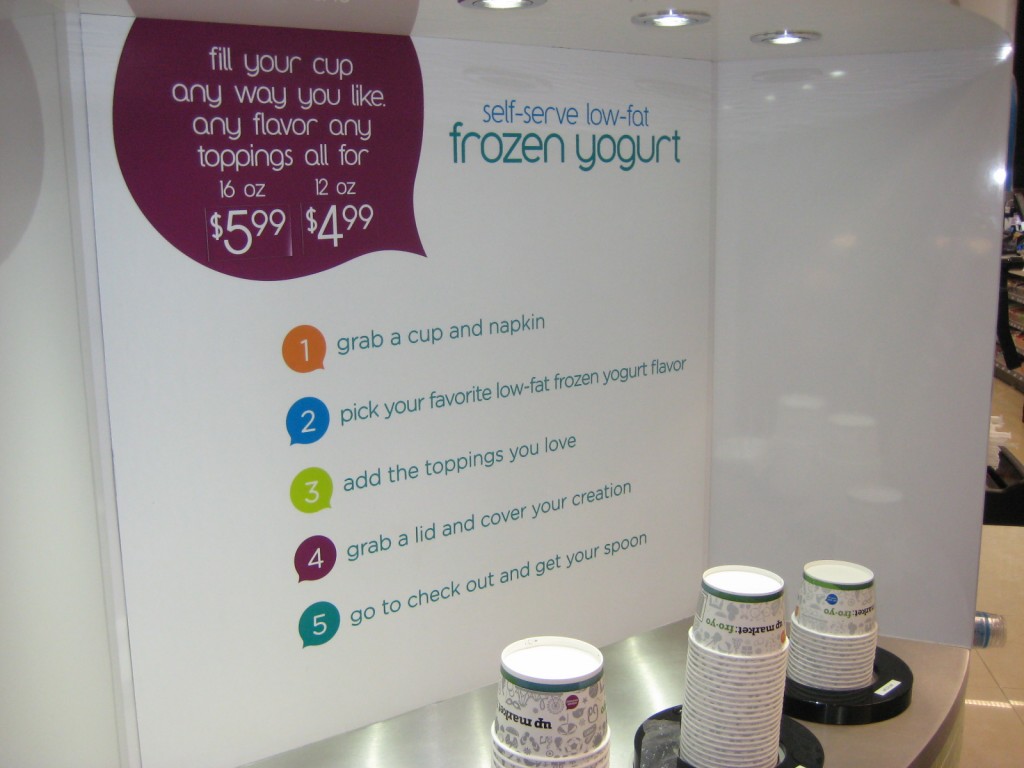 Duane Reade definitely has fresh food down to an art form in this first full service cafe for the drugstore chain. I can easily see why people working in the Financial District were flocking in and out for lunch and afternoon snacks. The up market: cafe and up market: chop offer 8 rotating soup flavors, sushi, noodle dishes and sandwiches all made daily. Though I did not get to taste, the presentation and combinations easily rivaled that of any sit down cafe in the area.
Apart from all the locally sourced fresh food, the space is certainly not your average Duane Reade. High ceilings with gold mouldings and extravagant archways and lamp posts, huge marble-esque pillars, shiny floors you could see your reflection in and wide spaces…it is a nice place to get lost in. Stay awhile over lunch, enjoy a coffee, browse the magazines, then grab your lunch or Fro-Yo before you go. You can check out more pictures of the decor in my Google + photo album.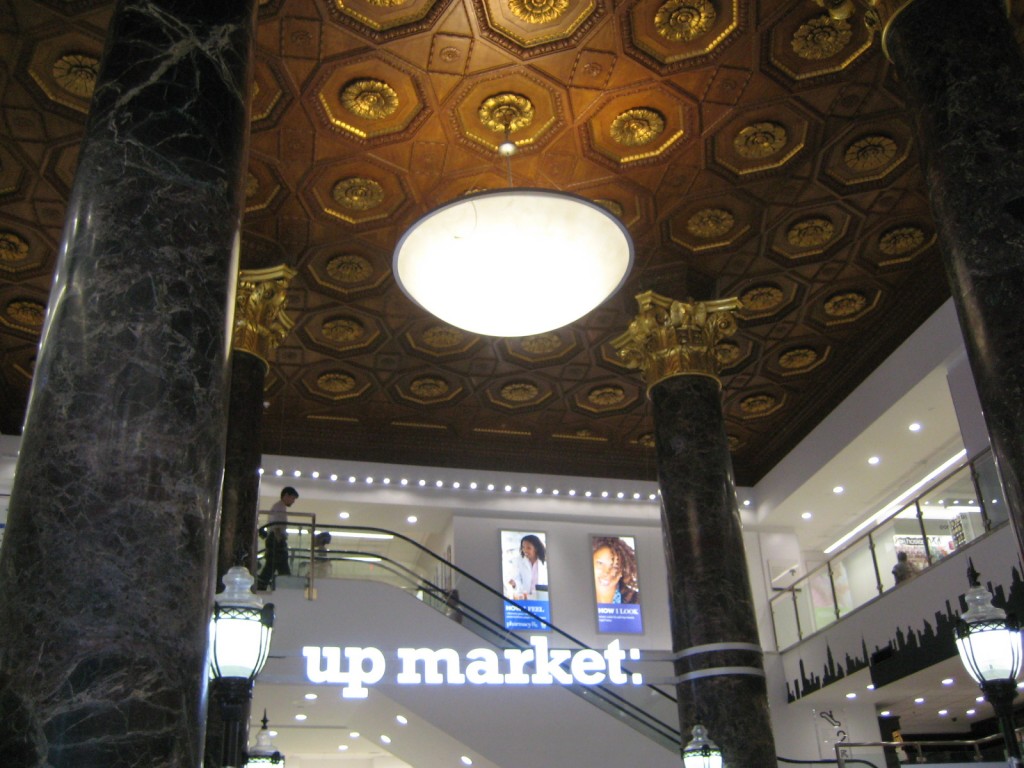 I could go on and on about what this Duane Reade has, but I'll just give you a brief run down of the other unique features.
This is the first global drugstore in the world. The pharmacy on the second floor is linked to Walgreens nationwide system, and in the near future it will also be linked to the 3600 Boots stores in the UK that Walgreens recently acquired. What that means for you now is that you can drop off a prescription at any Walgreens and pick it up at any Duane Reade, and vice versa. That is a system of 253 stores if you include Puerto Rico.
Up market: uses as much local produce as possible, this include fresh lettuce in 4 varieties and 50+ toppings on any given day.
The one of a kind museum-like 'Canyon of Heroes' exhibit displays historic events that have been celebrated down Broadway. These include game-changers like the 1960 John F. Kennedy election, the 1946 Winston Churchill era and the 1969 moon walk.
A Hybrid LOOK Boutique, showcasing the best of what the full service LOOK Boutique only a few blocks away at 40 Wall Street has to offer. You can still get all the fragrances, makeup tools and kits, but you'll have to wander down to 40 Wall Street for the Nail Bar and Blowouts.
It's a fantastic space with a lot of character in FiDi and a lot of choice for lunch, a snack or even to takeaway for dinner. Open 24 hours, there isn't much you can't get done at Duane Reade 100 Broadway.
Follow Duane Reade on Facebook for Foursquare special announcements for the week and information about what's on in New York City. Or if you prefer, you can always tweet them.
The official Duane Reade website can be found here, as well as video interviews and outtakes on their YouTube page.
disclosure: I am a member of the Collective Bias™ Social Fabric® Community. This shop has been compensated as part of a social shopper insights study for Collective Bias™. #CBias #SocialFabric As a Duane Reade VIP Blogger I was invited ton a media tour, but as always, all opinions are 100% my own #DR100Broadway