There is so much on at the moment that I really have to pace myself and the kids if we are to make it to Christmas in one piece! Little Miss is a little under the weather, but I'm hoping that this weekend she will kick whatever she is fighting. Meanwhile Mr 5 woke on Thursday pretty much on fire – well, he had a high fever. We got him settled and today he was a little lacklustre, but overall seemingly lots better.
Without further ado, here are a few awesome things you can do in Brooklyn and Manhattan this weekend and beyond in December.
Over the past 15 years 65 million people have experienced the Lion King on Broadway and to celebrate they have opened a free interactive exhibit Inside the Lion King at 42nd & 6th Avenue (across from Bryant Park). The exhibit runs from 10am – 8pm daily til December 16.
December 8th, 10:30AM-12:00PM & 3:00PM-4:30PM Storytelling : Discover the playwright's process and try writing for the stage.
December 9th, 10:30AM-12:00PM & 3:00PM-4:30PM Music : Explore the sounds of the savannah and how they bring the story of THE LION KING to life.
My Brooklyn Baby and Habana Outpost in Fort Greene, Brooklyn are hosting Santa Claus this weekend complete with crafts, photos with the jolly old Saint Nick and a goodie bag to take away. I'd love to go to this one if the kids were all healthier!
And if you are still looking for more to do this month with the kids in and around New York city, make sure to check out PBS Kids Club 13's Holiday Happenings!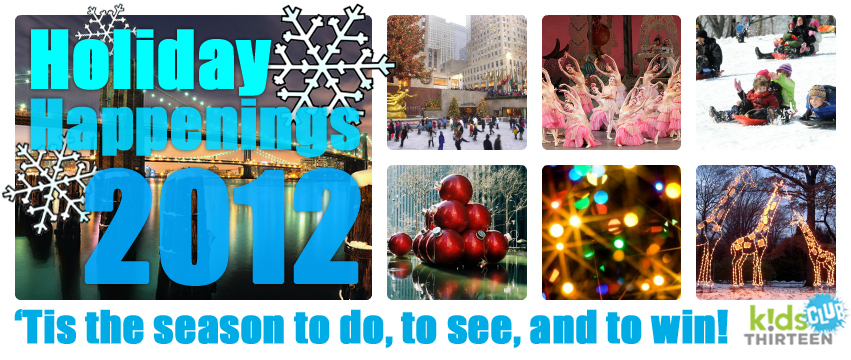 Some of may favorite picks from PBS Kids Club 13 are below, but check the site to pick out your own and for more detailed information about tickets and opening hours. Kids Club 13 are also giving away tickets to some of these events.
Big Band Holidays at Jazz at Lincoln Center
Holiday Extravaganza Laser Show at the Discovery Museum and Planetarium
CIRCUS OZ at The New Victory Theater
Holiday Train Show at The New York Botanical Garden