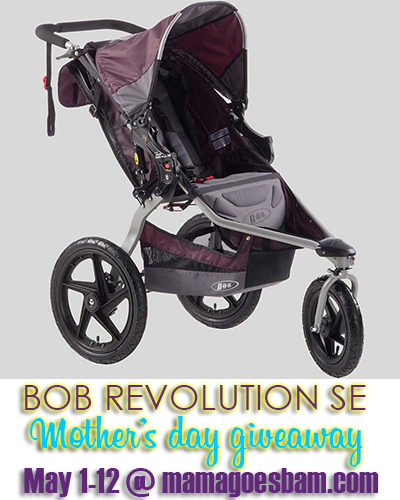 Hosted by Mama Goes BAM and sponsored by Britax/BOB. The event will run for 2 weeks from May 1-12. One winner in the Continental US Only will win a brand new BOB Revolution SE valued at $360.00 in the exact plum color as pictured above. I will be writing up a review before the giveaway starts, but in the meantime you can vist the BOB Revolution SE page to find out more about this awesome stroller.
I am looking for bloggers to host the rafflecopter in exchange for a Twitter or Pinterest link on the Rafflecopter (please only one link per person). I will email the details for the post and the Rafflecopter link on Monday, April 29. Signups for this event close Sunday, April 28 at 8PM.
If you have any questions, please email me directly at ghada (at) mamagoesbam (dot) com and I will get back in touch as soon as possible.
Just fill out the linky below to be included and make sure that you include your email address, as that is my only way of contacting you with all the details for the event.
Thanks for joining!
If you would like to know when the giveaway starts so that you can enter, sign up to receive updates straight to your inbox whenever I write a post.