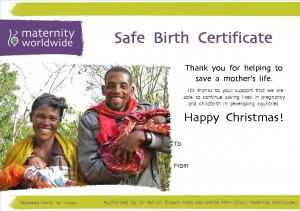 In North America, we have so many choices of how we give birth. From state, to state, city to city the choices of midwives or obstetricians, doulas and so many other facilities and specialists may not be as abundant as we hope. But overall, we have a choice of how we bring our children safely into the world. That is why it is staggering when I hear that one mother dies every 2 minutes in pregnancy and childbirth, 800 each day.
Having a baby should be a time of great joy and hope. But every year across the world 287,000 women die in pregnancy and childbirth.
London-based 
Maternity Worldwide
, works to ensure safe births and increased maternal health in developing countries. If you would like to  'Save a Life This Christmas', consider the alternative Christmas gift of a Safe Birth Certificate for $24 and $81 for an emergency delivery for a mother in sub Saharan Africa. You can
find out how you can purchase this life saving gift from Maternity Worldwide
, from this UK organization. If you do click over, please notice that the donation amounts are in pounds and will convert to dollars at checkout.
It should not be that women and young girls in developing countries are losing their lives because they do not have access to maternal health and family planning resources. A Safe Birth Certificate can be personalised with your own message and either sent directly to the recipient or to you to give to them.