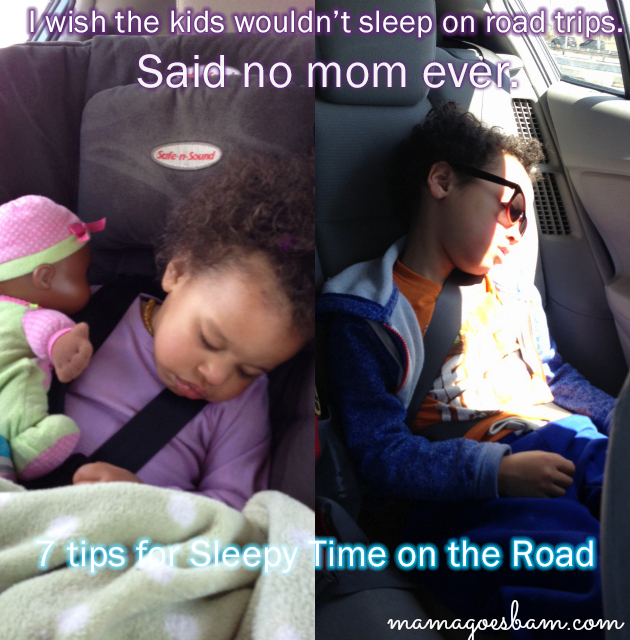 We've all played endless rounds of I spy with my little eye or had sing-a-longs on road trips, but sometimes the easiest thing for everyone involved is for the kids to sleep peacefully in the back seat. If the trip is short enough and relative to their normal nap time, crafting it so that your little darlings fall asleep might just be the best thing to do. Even with toddlers who no longer take naps, the lull of the engine purring out on the open road could very well send them off to lala land.
The upside to the kids napping on the road is that they'll arrive well-rested at the other end. The bonus is that both navigator and driver will get a chance to catch up without interruptions from the little people. When's the last time you talked with your significant other without a littlie asking for something to eat, drink, or some other request? We took an easy hour and a half drive to Mt Laurel, New Jersey over Easter and this worked a charm for me and Mr BAM.
How to have sleeping sweeties on road trips
 Before you leave, make sure your toddler makes a potty stop and that babies in diapers have been freshly changed.
Put pillows, blankets and favorite snuggly stuffed animals in the back seat.
Swap out the local pop station for a lullaby CD. I love the Rockabye Baby CDs which are lullaby versions of tons of great music parents like, such as Bob Marley, Green Day, Kanye West and my personal fave U2.
Schedule your departure just before nap time.
If your kids normally sleep well on a full tummy, then make sure you have the snack/milk all ready to go. Consider a natural snack without sugar – last thing you want is to experience a sugar spike from a kid all hopped up on sugar in the confined space of a car.
A car sunshade is also a good idea to shade sleepy eyes from the rays.
If you need to stop while out on the road leave the car running, that may be enough to keep the kids asleep. And always make sure there is an adult in the car, don't leave the kids in the backseat alone.
Just remember that the adults need to be well-rested and alert for the drive, and because your littlies will be rested once you arrive, be prepared to take them somewhere where they can burn energy. So if you're over entertaining the kids on the road or listening to their fave TV show/movie for over an hour, why not try this next time.
Do you prefer when your kids sleep on road trips? Or do you prefer playing travel games?