Even after having Mr P nearly 6 years ago, I still found myself in the hospital wishing I had brought a few extra items to make my hospital stay after the arrival of Little Miss 19 months ago a little bit more tolerable. After all, as the mom you have just given birth to this precious new life – spent hours one way or another getting this baby safely out. Your body is tired, but at the same time you are responsible for this little beings introduction to this whole new world on the outside.
As a mom, it is easy to effortlessly take care of others…but when it comes to myself…not always so much. I did try to pack a bag that would have all the little incidentals to make life easier, but I know I forgot a few. One of the most surprising items I woud never have thought of needing (but I did), was a stool softener. When I had my son in New Zealand, things got moving easy-breezy after the labor. With my daughter just a little over a year and a half ago when I had her in New York, I remember scoffing at the nurse when she said to buzz her once I was ready for my first "time" in the bathroom. Pffft, whatever for? Well, I am glad I did.
What you need to know about DulcoEase® Pink™ Stool Softener:
It works with your body by drawing water into the 

bowel, making the stool softer, and producing a bowel movement 

in 12 to 72 hours.

I was advised in hospital on the best stool softener for me. 

Please check with your doctor before trial/use of the product especially if you are pregnant 

or breast-feeding. 

Prevents and Relieves constipation, stimulant free, c

omfortable relief
I asked the moms in the Mama Goes BAM Facebook community what must be included in the bag you take to the hospital before you deliver baby. Their were some that I hadn't thought of, lots of clever ideas, and of course ideas for items for others – read on, having stuff for others ultimately still makes new mom's life easier

Comfortable nightgown for after the birth
lip balm
A basket with neat little goodies for the nurses. Your present equals extra awesome care
slippers
camera
warm socks
cell phone charger
nursing bra
Right now you can download a money saving coupon for $1.50 off select DulcoEase® Pink™ Stool Softener products. And to find out more about the new DulcoEase® Pink™ the #1 OBGYN recommended ingredient*  and what other new moms have on their list, visit Moms Talk DulcoEase or the DulcoEase® Website.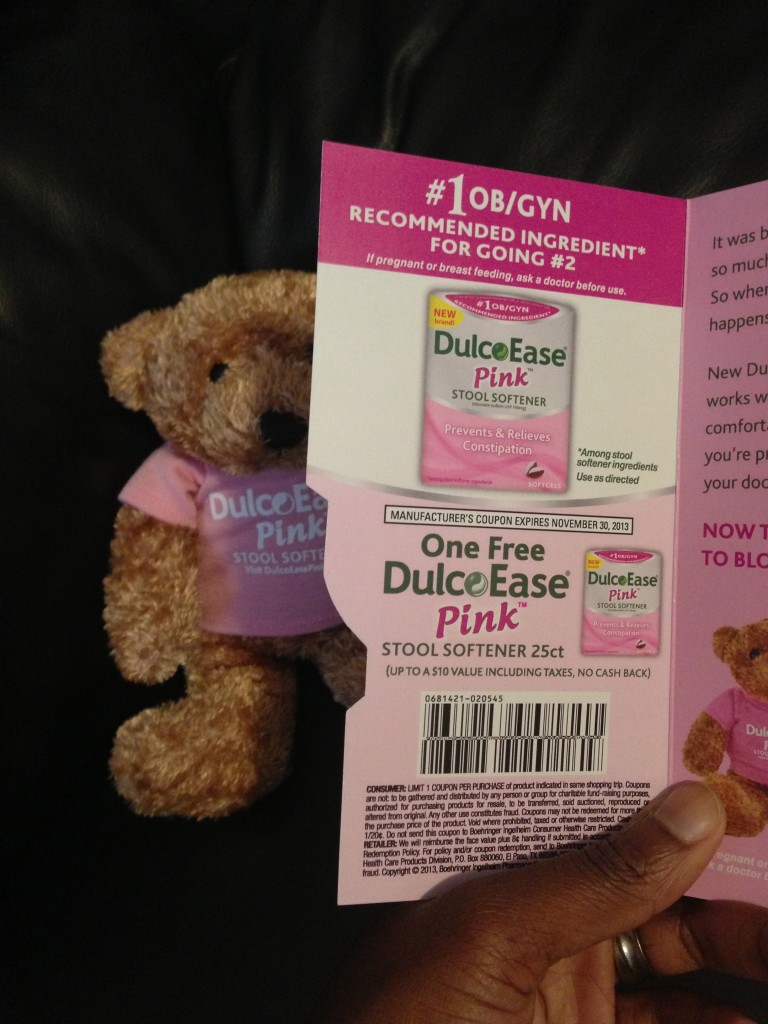 *among stool softener ingredients.
Every new mother's toolkit should include DulcoEase® Pink™, the #1 OB/GYN recommended ingredient* for going #2. So if you are pregnant or breast feeding, ask your doctor if you should think Pink. Find savings on DulcoEase® Pink™ at www.MomsTalkDulcoEase.com!
*Among stool softener ingredients
This is a sponsored conversation written by me on behalf of DulcoEase® Pink™. The opinions and text are all mine.