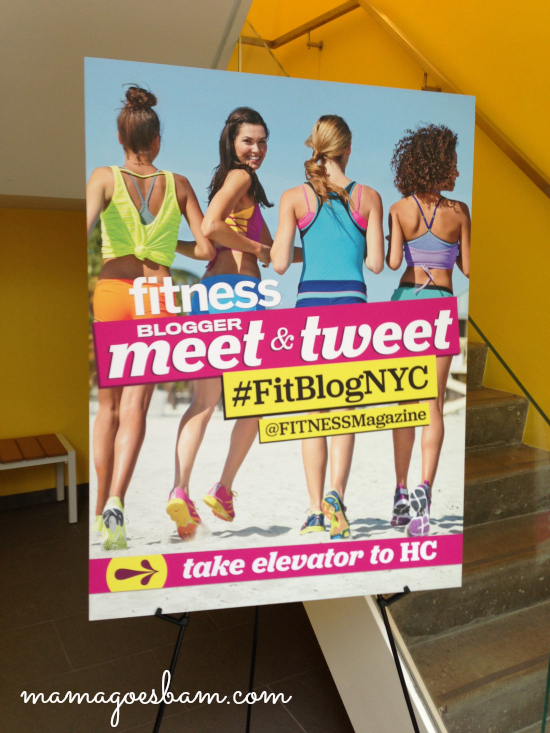 A couple of weeks ago I had the pleasure of attending the invite-only #FitBlogNYC at the Mercedes Club in Manhattan. The event was put on by FITNESS Magazine, the only magazine I religiously devour in a bath when it arrives on my doorstep every month. I was lucky to have been able to sit in on conversations from sone of today's great trainers, doctors and Chefs! I also had the opportunity to demo beverages, health food and apparel, yet I was under no obligation to write anything. I am sharing this post as hearing Rocco Dispirito speak was entertaining and engaging and in fact I will share more posts about the event soon!
Rocco Dispirito has what my high school religion teacher called a "proselytizing spirit" – meaning he can convert you into doing just about anything, kinda like a cult leader. This is a Chef that took his craft back home to Italy so that he could cook with the "mamas" and understand old Italian traditions as well as adapt them to a healthy lifestyle. His conversation with FITNESS Editor Pam O'Brien was frank and to the point with some new-to-me food ideas that I can't wait to put into practice. One of the golden nuggets he shared was this:
If you are eating alone, change that! Enjoy the company of others while you eat. You will naturally eat less and enjoy your food.
He talked about why 67% of the American population is overweight while only 3% of the Italian population is. Words like enjoying life, eating with family and friends,  and seasonal foods all came up. I liked that the foods he described were flavorful and varied, not bland and boring. In fact, he suggested to a vegetarian that she leave the "crunchy foods" behind and try out Indian food for some really yummy vegetarian meals.
Here are the top tips I jotted down straight from the mouth of Rocco:
Half a cup of cottage cheese is loaded with 16g of protein – eat it up!
Non-fat Greek yogurt is another fave for protein
Flavor detonator must-haves in your kitchen pantry include: stock in a box, spices such as basil, aged balsamic vinegar and Dijon mustard
For those in need of pasta, he suggested looking into miraclenoodle.com a miracle noodle made of Japanese yam
Other pasta suggestions included brown rice, quinoa and tinkyada rice pasta
He is also an advocate for cheese! But only the expensive parmesan which he suggested sprinkling over spaghetti squash
Another pasta idea is the super easy to make chicken puree pasta he recently demoed on Rachael Ray. I'm keen to look this one up and give it a whirl, I'll update if I do!
His favorite new sweetener is monkfruit
All I can say is that after listening to his mesmerizing Italian accent and informed take on how to cook, eat and enjoy it, I am looking forward to getting my hands on his latest book, Now Eat This!
What say you! Do you like hosting dinner parties?
disclosure: unfortunately I did not receive Rocco's ccokbook , that was not part of the deal :(, but I did get to be in his presence, take part in the Q&A and share in his wisdom. Though I did receive conference gifts from the sponsors, all opinions are 100% my own.