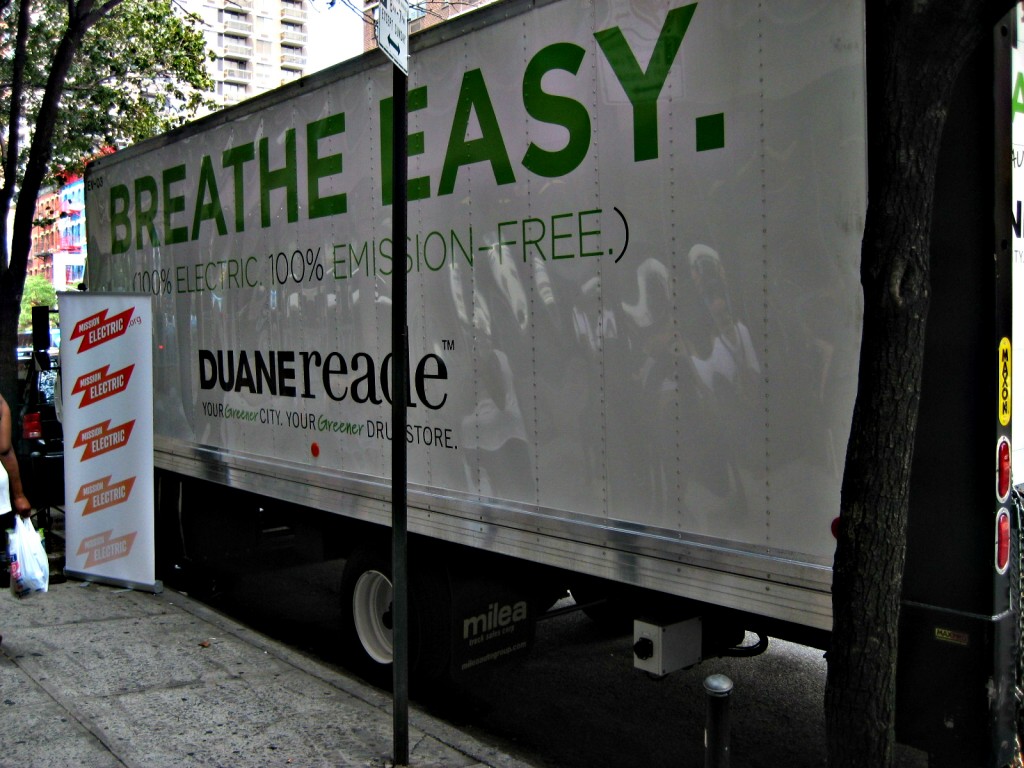 I headed into the Upper East Side on Tuesday to check out a new initiative Duane Reade is taking part in with not-for-profit Mission Electric. This is a first of its kind for New York city – a purpose built electric truck, built to make deliveries for Duane Reade. With temperatures reaching the high 90s, the idea of standing around a truck was not super appealing. But one of the most obvious features of an electric truck beyond its clean greenest is, especially on a day that hot, that the truck has zero emissions – no gas, no heat, no smoke and even more quiet than a purring cat.
I had a chance to talk with Julie Migliacci who was reperesenting Mission Electric. Though New York is relatively clean for a big city, these trucks stand to further decrease vehicle pollution by 20 per cent.
Mission Electric allows people who live in New York City to have a say about electric vehicles without necessarily making a $50,000 purchase.
Julie, on behalf of Mission Electric
Duane Reade trialed 4 of these trucks for one year and have now rolled out another ten across New York city. Though other companies are now trialing the same technology, V.P of Operations for Milea Trucks, Steven J. Dorn says Duane Reade was the first company to work with him on establishing these electric trucks. With these electric trucks being manufactured in the Bronx, not only is this a clean, green initiative, but also one that supports local business.
It takes only 8 hours of charging to get these trucks "fueled" for a day or sometimes night of work. When they get back to their sleeping place, these electric trucks will still have some juice left in them. Purpose built with refrigeration and other needs specific to Duane Reade, they are looking to roll these trucks out nationwide with Walgreens.
How Can New Yorkers Get Involved
Between 30-40% of New Yorkers actually have a private vehicle, yet Mission Electric allows us to make an impact on how much vehicular pollution is being emitted in our neighborhoods. More than 30 Duane Reade trucks have been identified as electric truck ready in the boroughs of Queens, Brooklyn, and Manhattan. Duane Reade and Mission Electric are asking you to vote for the locations that you believe should receive 100 percent electric delivery.
Voting is simple via an interactive map. Not only do you have a chance to help clean up the air in your city, but voters will also have the chance to win prizes.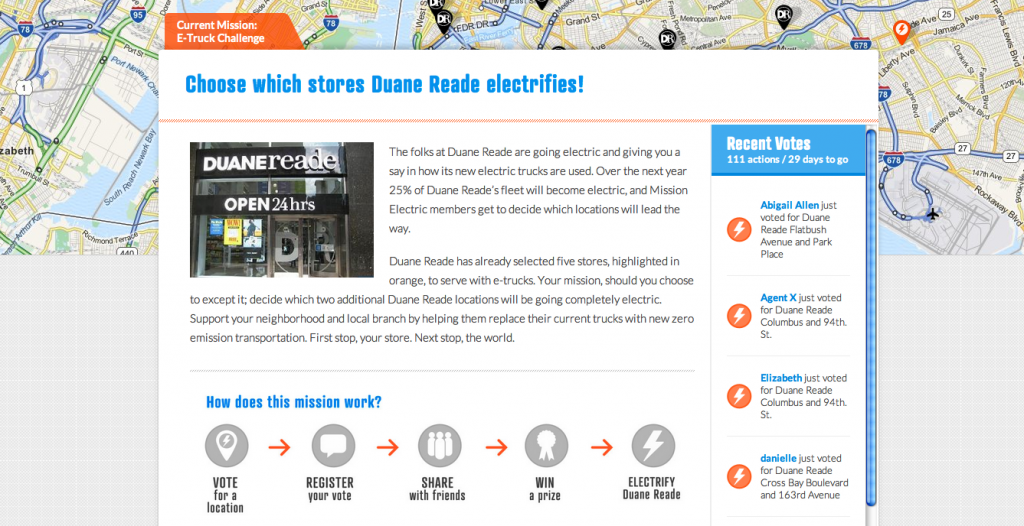 To see more about the Mission Electric Kickoff in photos, check out my Google + story.
To find out more about Duane Reade, make sure to log onto the Duane Reade website, follow them on Twitter or Fan Duane Reade on Facebook. You can also get the latest scoop on Duane Reade's YouTube Channel.
Spread the word about voting in this fantastic environmental initiative.
New Yorkers! Vote for the next Duane Reade to get an electric truck goo.gl/yayNX #MissionEV #NYC

— Ghada Vanderpool (@OMGhada) July 21, 2012
disclosure: I am a member of the Collective Bias™ Social Fabric® Community. This post has been compensated as part of the Dune Reade VIP Program for Collective Bias™ and Duane Reade. As always, all opinions are 100 per cent my own. #CBias #SocialFabric #MissionEV