I had the pleasure of test driving a Kia Rio SX 2013, the latest sporty addition to this family of compact, fuel-efficient cars. Over the space of a week, I was able to see how a car could fit into my daily routine. Though Mr BAM and I have toyed with purchasing a car in the past, in this city of fast drivers and heavy traffic we are always a little unsure about buying a car while living in Brooklyn.
In our family of 4, Little Miss is in a front-facing carseat and Mr P has a booster seat. We like to travel around the 5 boroughs most weekends, and have actually still not visited many of the city's best kid's attraction because, well, we don't have permanent access to a car! Heading the Bronx Zoo for example would take well over 2 hours by public transport. See why we need to seriously consider a car?
Most days during the week I am in Brooklyn – dropping the kids at various activities, heading to a coffee house to work or running general errands. Some of our favorite places to hang on the weekend are in Brooklyn. So what we are looking for is a safe car that is east to move around in. We found this in the Kia Rio SX 2013 and a few added bonuses that we think many families would appreciate.
Ease of getting around
The Kia Rio SX 2013 has as much power as you need to drive on busy roads. With electric power steering, a leather wrapped steering wheel,  and leather seat trim this is definitely a car you can spend a few hours in running errands. As I said, we mostly stayed in Brooklyn, visiting the library, getting Mr P off to camp everyday, and a trip to nearby DUMBO (Down Under the Manhattan Bridge Overpass) that usually takes us 30 minutes, but took us 15 by scooting on and off the highway.
The large size of the trunk is probably one of the more  unexpected features of this compact car. A trip to Riis Jacob Park and beach in Queens was our furthest trip, and though we loaded up the car with food, mini-golf set, a cooler, an extra set of clothes for 4 , and even an extra carseat that we didn't need for the drive, their was still plenty of room left in the trunk.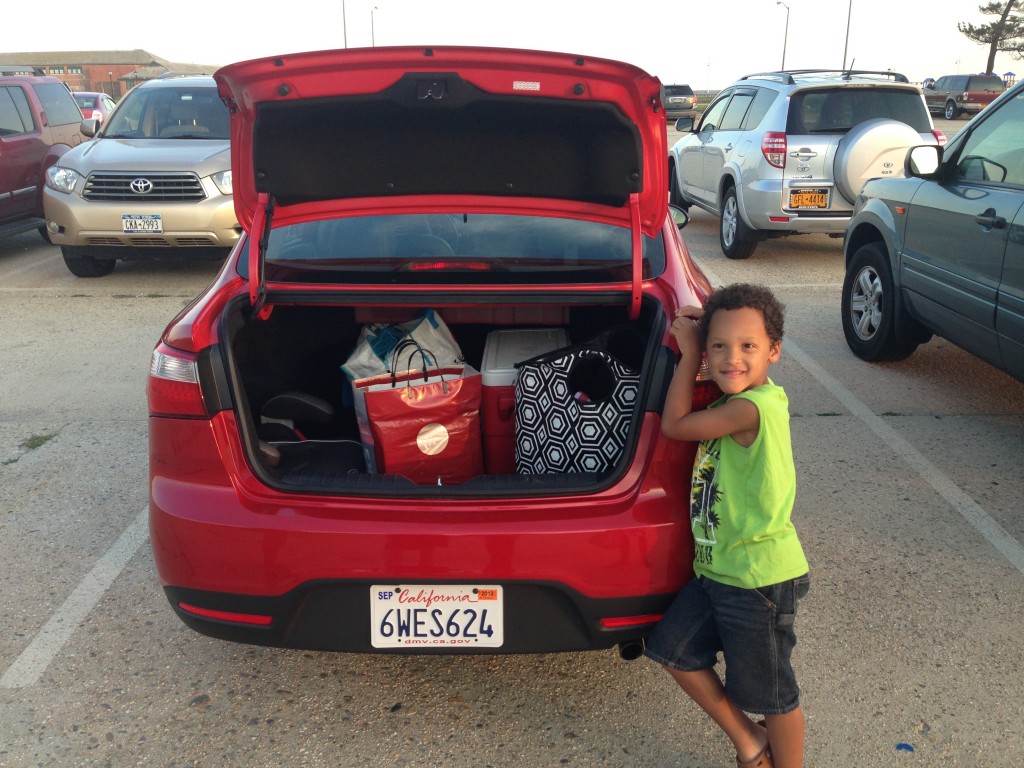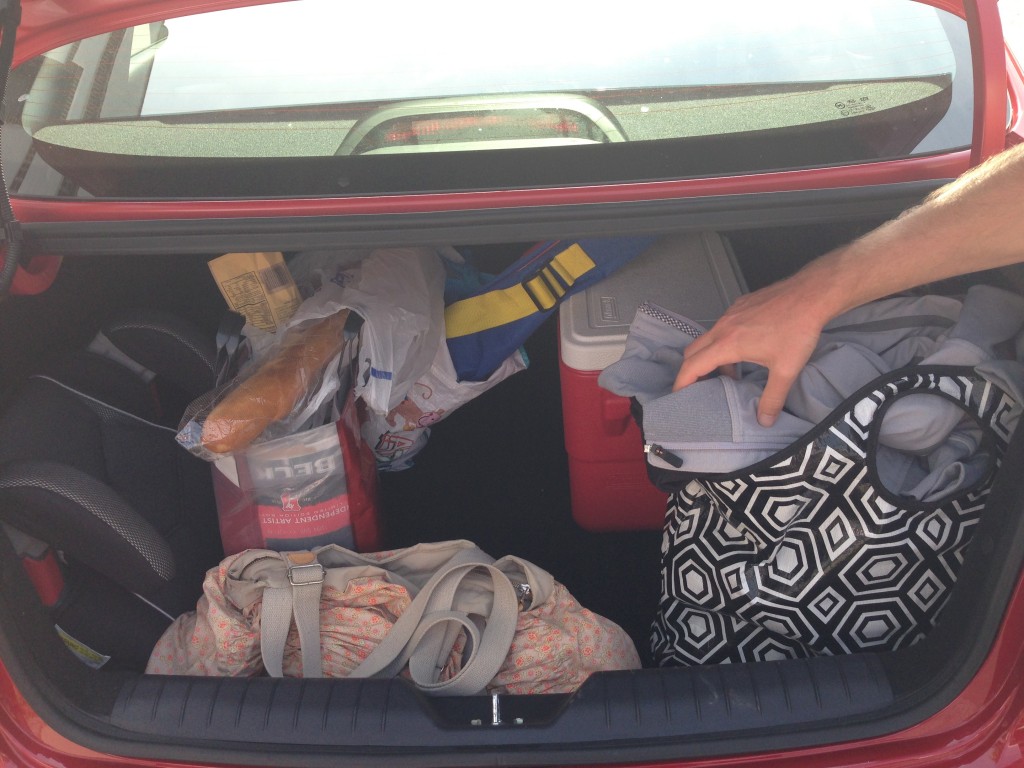 Smart Technology
I think what I most like about the Kia Rio SX 2013 is how easy everything is – from getting from A to B without getting lost, to being able to open the car door even when your hands are more or less full to the smooth ride and equally smooth interior.
My major pet peeve when driving in New York is the weaving in and out of turning lanes and finding a park when you eventually arrive. Because of the compact size of the Kia Rio, parallel parking is a breeze. I was also able to maneuver a few tight parking spaces thanks to the rear view parking camera, which originally I didn't think I would use as often as I did. I consider myself pretty good at parallel parking, but I dare say this may make it easier for someone who normally has difficulty.
As long as you have your remote key within a certain distance to the car, you push a button on the handle and you are in! This is a convenience that you don't realize you need until you are wrangling with a toddler and a couple of bags of groceries…trying to get everyone out of the rain. I'm not sure of the exact distance, but it always worked for me if it was either in my pocket or in my purse. Very sci-fi and futuristic to this girl whose never owned a car newer than 3 years old *sad face*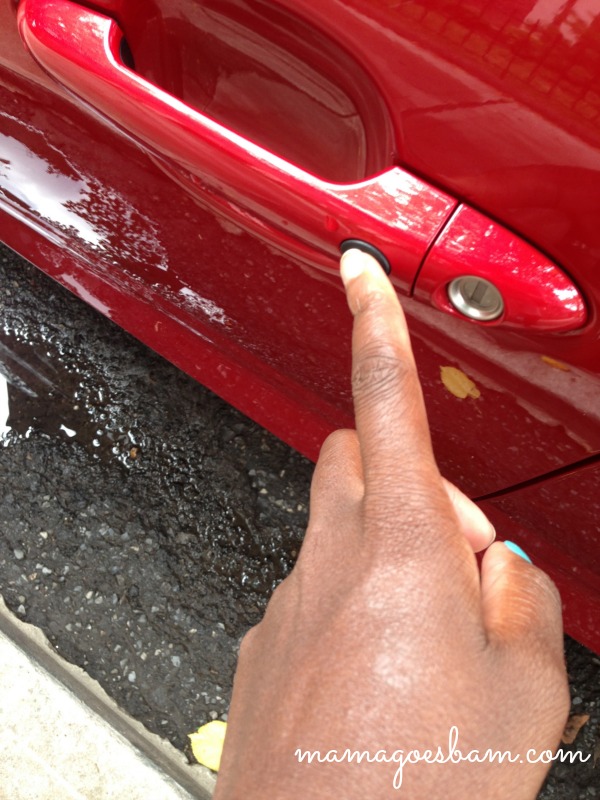 A smart navigation system is a necessity in New York city. The navigation system in the Kia Rio SX 2013 is  a built in SIRIUS radio and traffic system. I like the predictive capabilities of the system. So as you start to type the street name, it can narrow down the next letter you might choose.  Smart, eh? It still floors me when I get in a cab in Manhattan and have to navigate a driver to Brooklyn with Google Maps on my iPhone *eye roll* The navigation system in the Kia is super intuitive and the *bing* sound to alert you of a turn is also a good feature if you're a little unsure if you are meant to take the next right or the second right.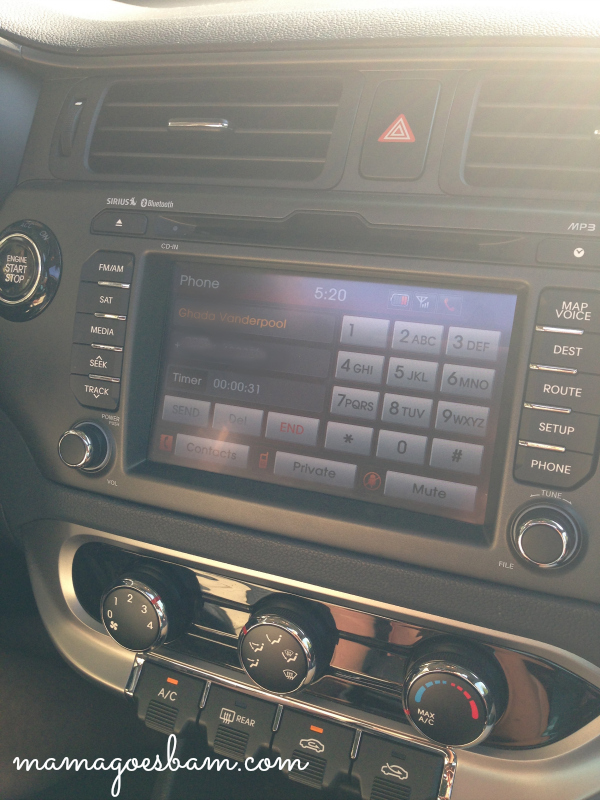 My husband and I also programmed in our phones to work via bluetooth. Though I didn't use this feature more than once (and just as a trial cause it's so cool!) during the week, its a great way to keep your hands and eyes where they need to be when you drive – on the steering wheel.
Check out some photos of where we went during our week with the Kia Rio SX 2013 as well as a video on how to pair your iPhone to the car with Bluetooth technology. It is a super cool and super easy feature to install.
The Lowdown
All-in-all this is a good compact car that a family of 4 similar to us could definitely enjoy. It is roomy enough for us and the backseat even had enough space to stash a few books and toys in between my 2 kids. If we ever needed to transport another little friend, their is even a 3rd tether in the middle. We discovered that we could even pop a seat forward if we needed to, this would come in handy for a trip to IKEA.
Kia states that the annual fuel cost is $1700, and with a fuel economy and with a greenhouse gas rating of 8 I think I could sleep at night knowing that I don't own a gas guzzling high polluting car. With a suggested retail price of $17,700 including all the modcons mentioned above, plus heated front seats, a sunroof, full-length side curtain airbags and many more features, that is a reasonable cost for a safe, fuel-efficient and sporty everyday ride.
Disclosure: Thanks to Kia Motors, I was provided with the Kia Rio SX 2013 for one week to help facilitate this review. I did not receive any compensation for this review and I am under no obligation to post. As always all opinions are 100% my own and I only post information that I believe will be of value to my readers. 
What 's one thing your family looks for in a car?