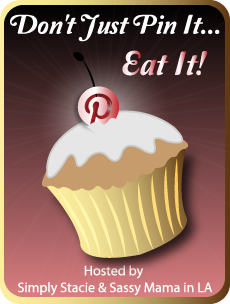 Welcome to the second installment of a fun new hop for all you Pinterest Addicts out there. If you're like me, you might find yourself pinning heaps of good ideas, recipes and crafts that you say to yourself you'll do later – well, later just never seems to come. Twice a month with Don't Just Pin It…Eat It! each of us is going to actually recreate a food item that we've pinned. No more just ooohing and aaahing, we've actually got to do this! The theme today is St Patrick's Day, so I headed over to my Pinterest yum yums board and had so many yummy green cupcakes and cakes to choose from, but I wanted something super simple that I could make with my 4 year old, so I chose Colored Popcorn. Simple but still so fun.
The pin doesn't link to a site with the instructions, and the description reads "Sweetened condensed milk + Jello + popcorn…who knew?!" Hmm…okay that's a bit of a clue, but I went off hunting for a recipe to follow. I didn't want to fly by the seat of my pants on this one. In my research I ended up also finding a recipe for making the perfect stove top popcorn. Trust me, this recipe is awesome! I didn't burn any popcorn and only found about 2 kernels that went unpopped. Check out Perfect Popcorn at Simply Recipes if like me you prefer stove top popcorn to microwave (or if like me you don't own a microwave!).
I then found the recipe for colored popcorn on the Eagle Brand website. Easy peasy lemon squeezy! I used Carnation Sweetened condensed milk only because it was cheaper than the Eagle Brand, a box of Lime Jello mix (for St Pat's of course) and my perfectly popped popcorn.

All of this under 35 minutes, most of which was the cooking time of 20 minutes. I really enjoyed making this with my son and we both loved the lime smell while actually mixing it all up. The popcorn was very tasty and I can see myself making lots of other colors as a snack at birthday parties. I highly recommend as a treat to take along to St Pat's Parades or to watch one on TV.