It's been nearly 20 months since our family last owned a microwave. My nearly 21 month old daughter has never seen one in action at our house and marvels every time we are visiting someone or stay in a hotel where there is a microwave. We didn't stop using one on purpose, it just happened. In fact, there was a super long stretch back in 2004-2006 while we were doing renovations on our first home in New Zealand that we only had a microwave and stove top in our kitchen. Like much of the planning around that kitchen, we hadn't properly budgeted for plumbing in the gas, and as time went on an oven became less and less important. Go figure, but we figured out lots of ways to cook lots of healthy meals in a microwave.
This time around, when we were relocated from our rental in Auckland, New Zealand to a company rental in Manhattan's Upper West Side we had a microwave and used it sparingly. I was heavily pregnant, and heavily sick most of the time. So when we moved to our new home in Brooklyn with our 1 month old and 4 year old, the house didn't have a microwave and we decided not to buy one.
I have nothing against microwaves, except for the abundance of terribly unhealthy frozen food options. When we do stay in a hotel, the kids love it when we can cook something up via the microwave, this past week it was s'mores with a sliver of strawberry, other times it has mainly been microwave popcorn.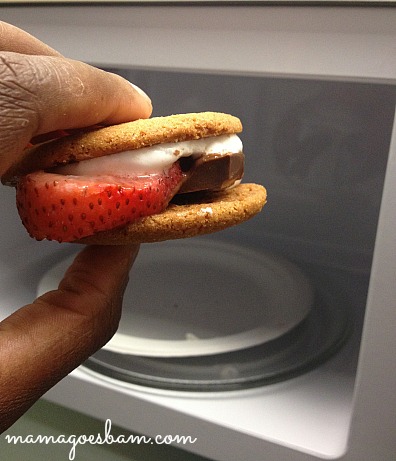 I asked some of my bloggy friends for more ideas of do-it-yourself treats you can make in the microwave. Most average 1 minute or less cooking time, and all of these DIY treats are easy to make in a flash! And who doesn't love bite size treats?!
Delicious DIY Microwave Treats (top left going clockwise pictured above)
These treats almost make me want to get a microwave 😉 In the meantime, my family will settle for the novelty of creating yummy treats like this when we visit Granny and Grandad.
Do you have any DIY microwave recipes you'd like to share or a preference for one of the ones listed above?