Thanks to Crayola for providing my son with the Get Out and Create Pack to help him continue to nurture his love to create – from the playground, to quiet time at home or even on the road.
Much to my husband's delight, my son is a natural artist. In a former life when he was much much younger Mr BAM was a celebrated artist selling paintings from his traveling adventures and inspiring interest in his paintings that took up entire walls. Once upon a time it seemed to us that Little Mr P would never progress beyond the scribble. As first time parents we didn't realize that he was on a totally normal trajectory and now, he definitely has an eye for detail, color and is a born artist.
See that chalk art below. Yes our Mr P drew that in the playground with Crayola Washable Sidewalk Chalk. See, the eye patch…It's a ninja. Pretty good I think, but then again maybe I'm just biased cause I'm his mama.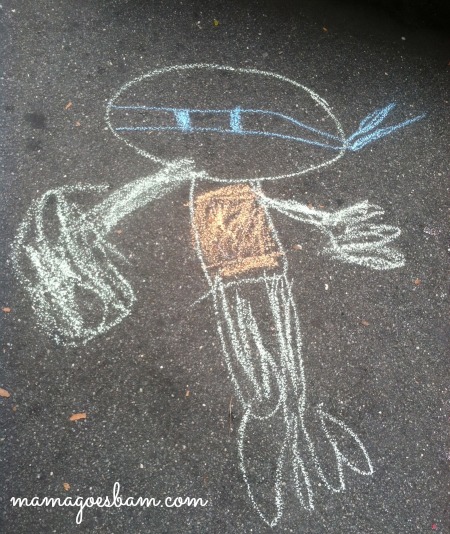 As parents we all get caught up in molding our kids into the image we want them to be, not necessarily what they naturally are trying to be. Mr P loves to create, play with paints, mix colors and figure out the exact detail that will bring his drawings alive. I like Crayola products because they let kids be kids – mix, match, draw and erase and as mom I don't have to worry about a huge mess.
Because we are in a rental house, I am always a little hesitant to use sidewalk chalk out the front of our house – our landlord can be picky. But with the Crayola Washable Sidewalk Chalk simply spray away with water and it's gone!
We recently took a roadtrip through Connecticut to Rhode Island and the Crayola Color Wonder Mini Stow and Go was the perfect carry case and drawing table for him while in the back of the car.
The markers color only on special paper and not on skin, furniture or carpets. Bonus! The last thing we need is for him to leave his mark behind in a rental car.
Before we even took off, he had popped open the storage and started on his first of many creations.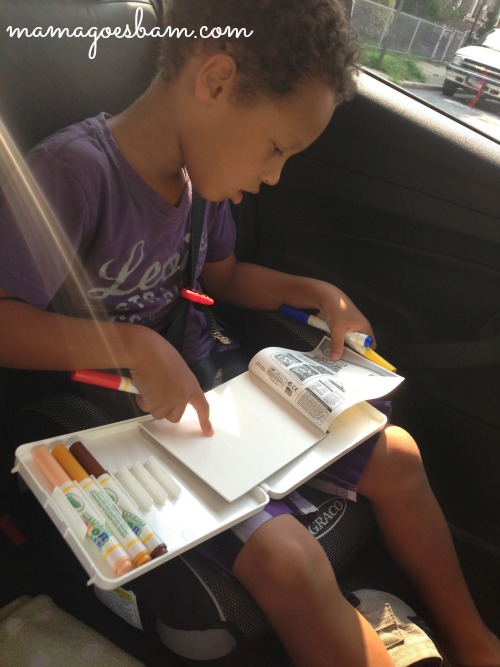 We also got to try out Crayola's new Color Wonder Glitter Paper. They are full of glittery fun but without the mess, since the glitter effects are in the paper. He turned and twisted the paper every which way trying to figure out how the glitter effects work. Much like a true artist, he enjoyed applying the 'magic' pens and seeing the paper glow. A true city kid, he could care less that he was playing with Princesses and Fairies! I didn't tell him these papers also come in his favorite Disney Car character, then I might just've had a mutiny on my hands. 
This is a great pack for the last days of summer travel as well as for the upcoming rainy fall days when you need to stay inside with the kids. If you'd like to find out more about the magical Color Wonder markers and other Crayola products, visit the official Crayola website, join their community on Facebook or follow them on Twitter.
Which of the 3 products above do you think your child would like most?
disclosure: I was provided the above Crayola products for review by Crayola, but as always all opinions are 100% my own. I only share information with my readers that I feel they will appreciate.