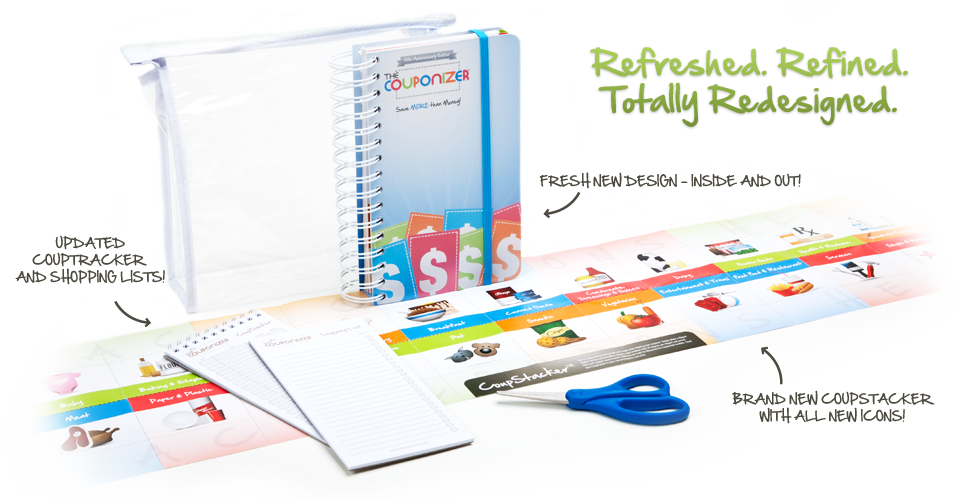 When I was little, I use to go through all the circulars that we received at home and neatly cut out coupons I thought might help my mother with the grocery shopping. Their was no rhyme or reason, just a little girl cutting tiny coupons of foods she wanted in the fridge. My mom stuffed them in an envelope and wrote her shopping list on the outside of the envelope, crossing things off the list as we went down the aisle. Sometimes coupons went missing, slipping out of the envelope or went unused because she did not have a clear picture of what coupons she had to work with. Gone are those days.
Enter The Couponizer. What started as one mother's desire to organize her coupons and help her shop for her 3 children turned into the 6-piece system that has sold out on QVC and won many awards.
In between being my mother's helper til now, I haven't had much chance to coupon until I moved to New York. Now I have so many opportunities to clip and download coupons to print and clip. But over the past few months I have been start stopping. I just couldn't seem to get a system that would get me anywhere close to using coupons regularly. It is still a work in progress, but at least I am now able to organize the coupons I have. As a newbie Couponer, here are the features that I really like:
The CoupStacker is great for sorting through all my coupons before I put them in The Couponizer book. I imagine if I had a ton more, this would be even more valuable.
The Sweepstakes, Refunds and Rebates section is by far the most regularly used. I get so many receipts with time sensitive deadlines for filling out an online questionnaire in order to get a discount the next time I shop. These receipts were getting lost and I was losing out on 10-15% discounts at stores I go to often enough. Now I can organize them in the appropriate pouch in order of when the survey needs to be answered.
Having sections for everything from Fast Food & Restaurant, to Services, Personal Hygiene & Beauty, as well as several food groups makes it easy to quickly look through and grab just one coupon if I'm heading out quickly.
This 10th Anniversary version of The Couponizer is very comprehensive and is more than just a place to put your coupons. You can track savings, write your grocery list, carry your loyalty cards along with all your coupons in a handy bag.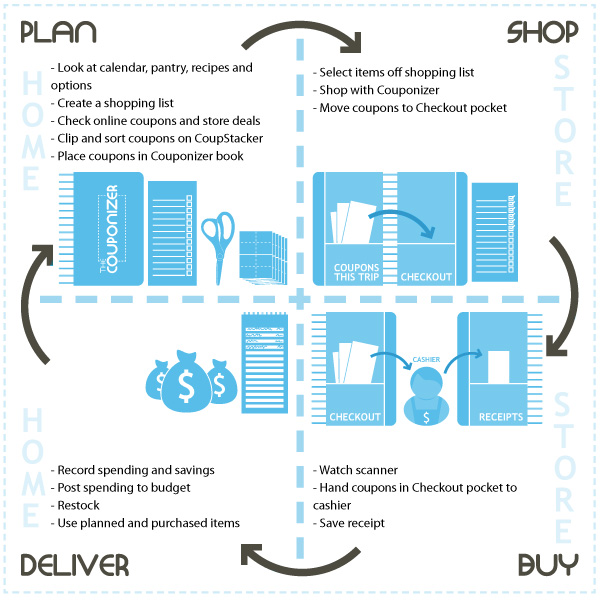 As someone who had no idea how to organize her coupons, I can say that The Couponizer is a great way to start. Once you begin to use it, it is a very intuitive system. The only downside to the pouches is that smaller coupons can slide down and be hidden, and then you might forget about it. I've started paperclipping these smaller coupons to the pouch, that way when I see a paperclip, I know that their is a smaller coupon I should check out.
Win It
Thanks to The Organized Parent,  I am giving away one The Couponizer until April 28, so head on over to enter.
Buy It
If you can't wait, The Organized Parent are offering Mama goes BAM readers a 15% discount til May 15, 2012. To take advantage of the offer, use the code 21857 at checkout.
Also, Follow The Organized Parent on Facebook for great tips and products for overworked parents by overworked parents or tweet them on Twitter.
Do you Coupon? Mama goes BAM readers are sharing their couponing tips in the comments here.