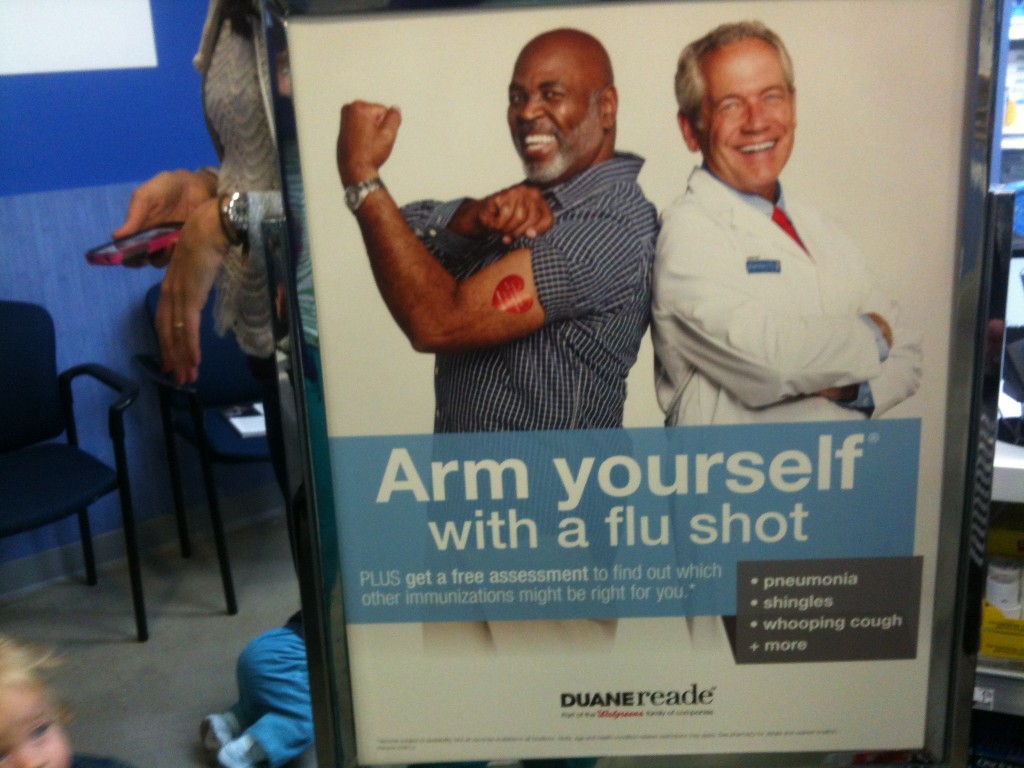 As a VIP Blogger for Duane Reade, I was recently informed of a New York Giants going in-store to get his flu shot as well as meet and greet the fans. I was still on the fence about getting a flu shot this year, so I thought this would be a good opportunity to find out more about this service offered at Duane Reade while getting a sneak peak at #66 David Diehl.
Last year was the first year that I'd ever had a flu shot, and it seemed logical at the time. I was offered it in hospital the day after giving birth to Isla at the beginning of November 2011. The idea was that I should do all that I could to be in as tip top shape as possible, especially around a newborn with little to no immunity at all in her system. I didn't really think twice about it then, with winter being in full swing, and with still another 5 months left in the flu season I got the flu shot. I had no adverse affects, but this time I wanted to be as informed as possible.
You can see more pictures from my walk-in visit with the pharmacist on my Google+ album.
 The Union Square location is one of the many 24 hour Duane Reade stores with a pharmacist on site 24 hours a day. The great thing about that is you can visit this Duane Reade whenever you want to get the flu shot. Originally, when I'd found out you could get the flu shot at Duane Reade, I thought about bringing the kids in for a shot. Between kindergarten, playgroups and all the other germs swarming around the playground even my kids' normally robust immunity could take a beating over winter. But then I found out,
Duane Reade pharmacists are only registered to administer the flu shot to anyone 18 years or older.
Still very convenient for any adult, seeing as you don't have to fit into doctor's office hours, just find a 24 hour Duane Reade location and check with them that their pharmacist is also 24 hours. You can then get your shot whenever is most convenient to you, even outside normal 9-5 hours.
I liked that the pharmacist on hand was open to my questions and gave me information with no obligations to going through with the flu shot. I asked a series of questions about everything from how healthy I needed to be to receive the shot, to questions about insurance.
She was well-informed and made me feel at ease about the medical perspective of the flu shot.
They do also offer the spray immunization, but after talking it through with her, I was more interested in the flu shot as opposed to the spray. You can find out more about getting the flu shot at Duane Reade by visiting the Duane Reade website, but here are a few tips that I learnt from her.
What to Remember When Getting a Flu Shot at Duane Reade
In the State of New York, only persons 18+ can get a flu shot from a qualified pharmacist.
I was concerned about getting a flu shot on that day, as I had been fighting off a cold all week. My glands were swelling at night and the day before I had a runny nose. She told me that as long as I was not "sick in the hospital" then I was eligible for the flu shot.
You can schedule an appointment to get your flu shot at Duane Reade by calling, but drop-ins are always welcome.
The Duane Reade pharmacists can send a copy of your immunizations to your doctor.
Expect to spend less than 5 minutes filling out the paperwork (informed consent form) before the flu shot once your file has been retrieved on the computer. It is a super easy-peasy system and helps the pharmacists be prepared – like have you had the flu shot with adverse effects in the past.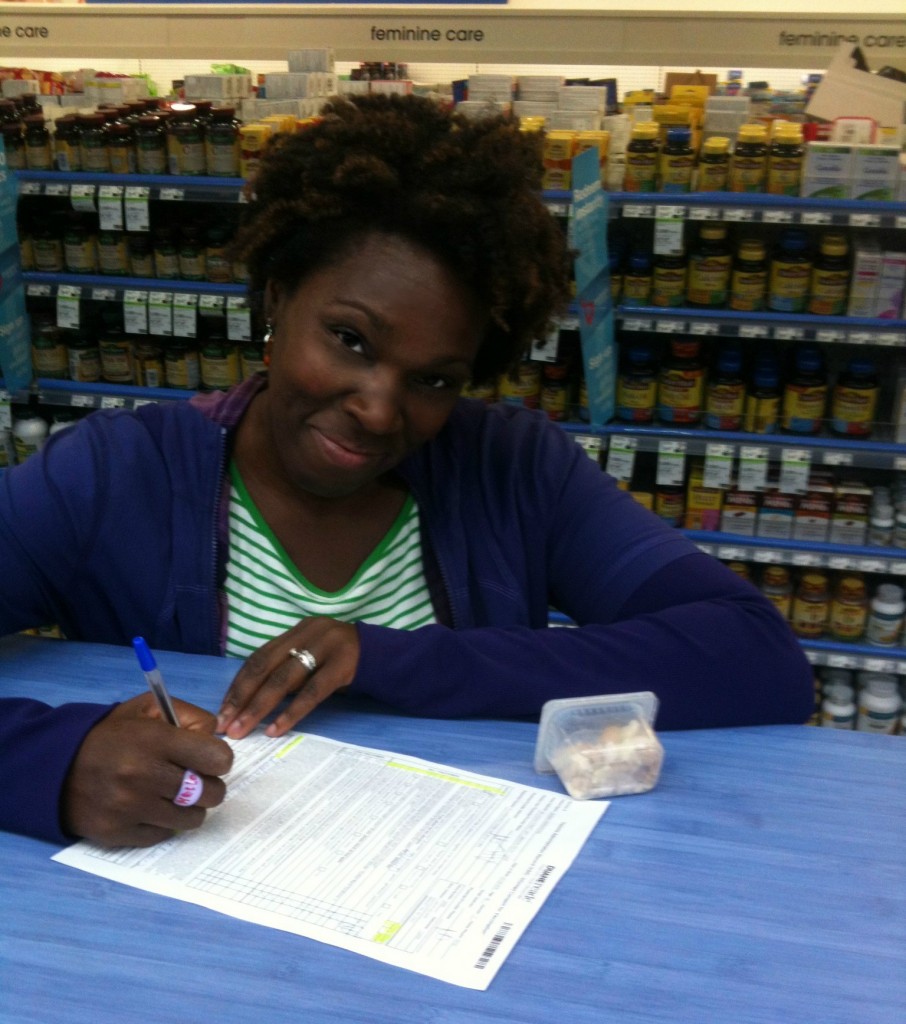 The flu season runs from August to March every year, so it is recommended that you immunize against it every year as the virus changes from year to year. There is still time to get your flu shot at Duane Reade, and if you need added incentive follow Duane Reade on Facebook or Twitter to find out when you can go in-store and get your flu shot alongside a New York Giant. You can also catch up with Duane Reade on You Tube.
Will you be getting the flu shot this season? How convenient is it for you?
disclosure: I am a member of the Collective Bias™ Social Fabric® Community. This shop has been compensated as part of a social shopper insights study for Collective Bias™. As always, all thoughts and opinions are 100% my own. #CBias #SocialFabric #DRFluShot