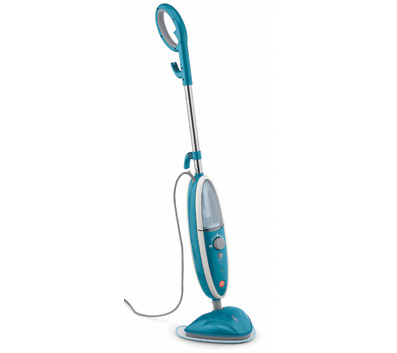 The Hoover TwinTank Steam Mop is a great addition to our house. We have hard wood floors through the entire house except for vinyl flooring in the kitchen and a small patch of carpet at the front door. The Twin Tank Steam Mop makes it easy to zip through the whole house in no time. And now I finally have something that I can whip out to quickly clean the carpet without needing a mop and a vacuum.
The first thing I noticed when it arrived was that it is really light weight, which is also obvious when pushing it around. It just glides over the floor and because of its shape, it fits into corners easily.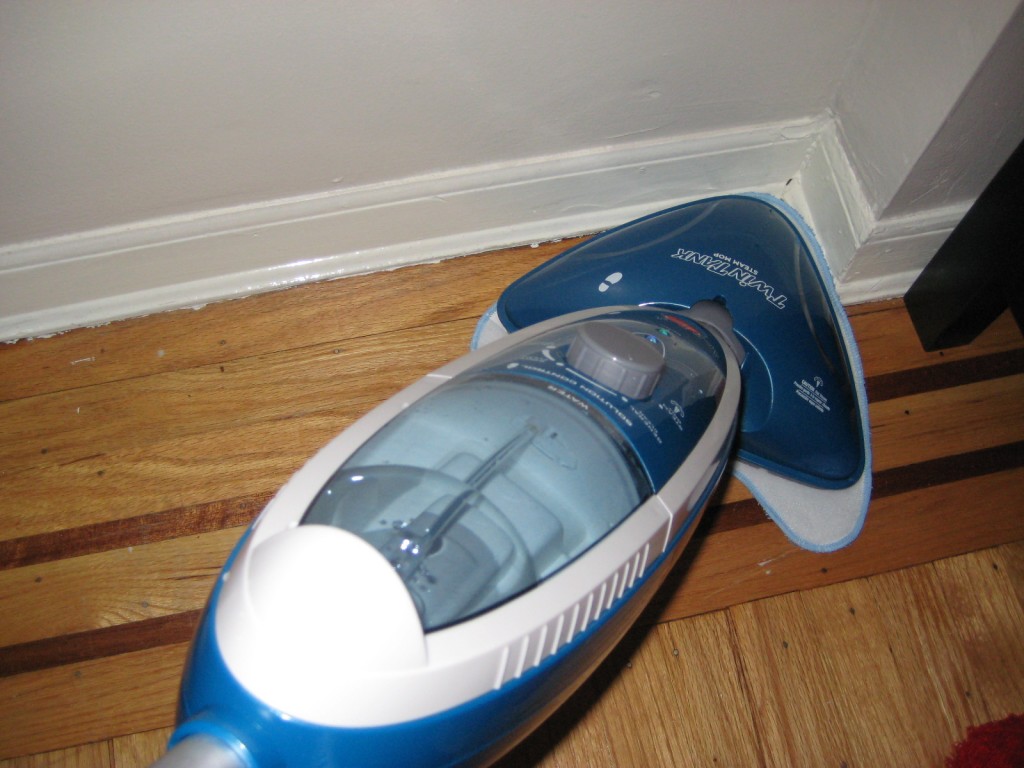 The first time I tried it out, I used just the water steam without the cleaning solution that comes with it. I've never had a steam mop before, so this was definitely a step up from an old school mop. I added the water to the tank at the front, plugged it in and within just a few seconds the ready light came on. The steam cleaned up the floors without leaving any streaks and the floors felt smoother, free of the dust that manual mops usually leave behind. It even pulled up a few "mystery" sticky spots like squished in raisins.
Since it was so easy and took less time than I thought, I moved into the kitchen and decided to use the cleaning solution – which is added to a separate tank in the back. Again, it went over the vinyl easily and the solution did not leave any streaks or have a strong smell. There is no better feeling than walking bare foot and having your feet NOT stick to the surface.
I can say I'll never go back to a stinky smelly mop. When I finished, I just had to remove the pads that come with the steam mop and throw it in the wash, too easy!
Our floors seem to be always dusty, and with a crawling baby I became a little obsessive with clean floors. With a mop, I felt like I was just putting dirt on top of dirt, a mop just never feels clean. Now, I can see the steam doing it's thing, the floors are truly clean.
I like that it is really quiet, no louder than a steam iron – so quiet I can use it while the baby sleeps, and while goofing around with my husband, I took a picture to prove it.  I was also able to do the living room floors while my 9 month old played in the exersaucer and the sound didn't bother her.
The maneuverability is great, and though at first I thought the handle seemed a bit short, it actually forced me to straighten up when mopping instead of hunching over pushing into it. It's not necessary to push hard, so I guess the height is just right and forces me to have a good posture.
It is so easy to use, that I was even able to in high heels.
disclosure: I am a member of MomCentral Consulting and I received a sample of this product to facilitate my review, but my opinions are entirely my own.