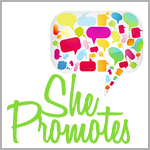 I'm taking part in a group activity with fellow bloggers at ShePromotes.com. As part of that, I'm going to introduce you to Dawn over at Cheap is the *New* Classy. If you love deals and steals, you'll want to head over to Cheap is the *New* Classy for coupons, rebates and other specials that Dawn scours the net to find.
I've got to give her props for taking up a 2012 Reading Challenge. Uuuuugggh, I've got 2 books next to the bed and at least 10 magazines that I just can't seem to finish. Dawn has already done a review for 10 out of the 60 books she is challenging herself to read in 2012. I've discovered quite a few interesting readss from her reviews of books from fiction to autobiographical. I'd like to read the Patrick Swayze autobiography she reviewed…but I've got other books to finish first.
I'm a sucker for my crockpot at the moment, so I am super stoked to see her What's for Dinner? section, subtitled One woman's attempt to learn how to cook, one recipe at a time! I'd have to say by the look and description of what she's cooking she is doing a pretty good attempt.
So head on over to Cheap is the *New* Classy to catch some deals, check out the mouth watering recipes and get some ideas for new books you could read.