Our eldest (monkey #1) turns 5 at the end of September, which means at the start of this school year he starts kindergarten! I can't believe that he will officially start school. Deciding on where he should attend kindergarten has been a huge decision, but now that we are finally settled on where he will go, it is time to get him prepared for this exciting new time in his life.
While at preschool this year, he used to wear a uniform that we purchased in store at Cookies Kids. That was our first experience with the Kid's Department store and we couldn't believe just how much selection they had in the lines of kids fashion and school uniforms. So I was truly lucky to have been able to interview one of the son's of the founders of Cookies Kids. It was easy to purchase his yellow shirt, tie and green pants. He was able to wear them everyday with free dress on Fridays. I have to admit, I really liked the whole uniform thing. No worrying what to wear in the morning, no arguments over clothes, wrinkle free uniform without the need to iron, and you have to admit, he looks pretty smart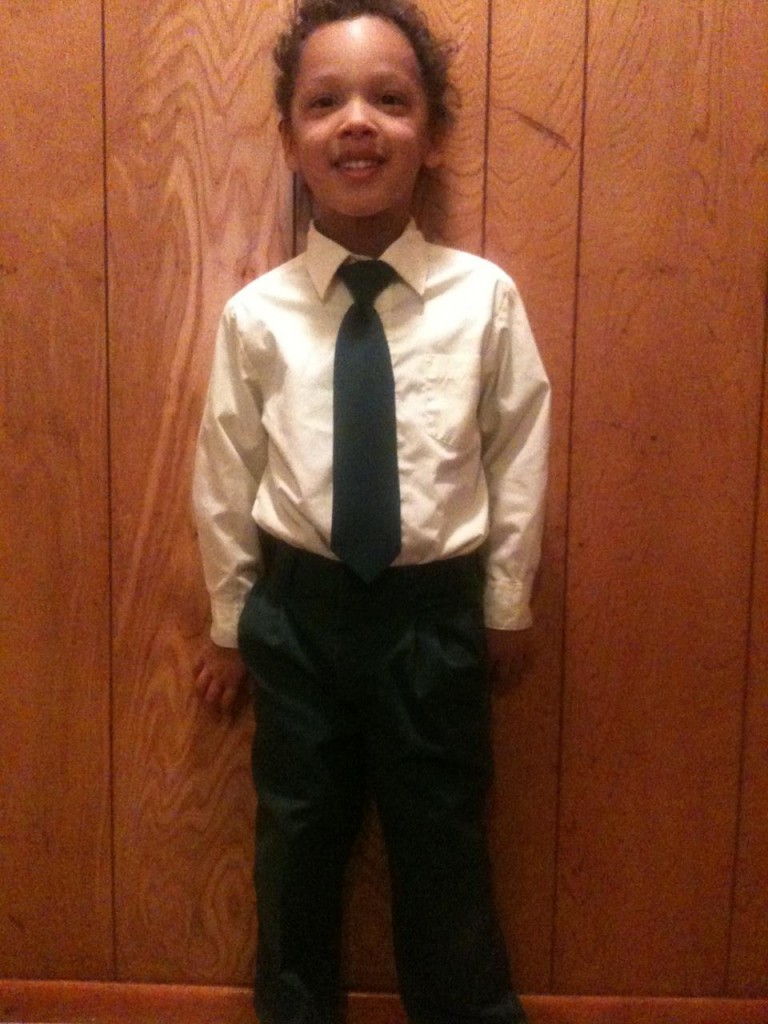 So now that he is off to public school we have to deal with choosing clothes every day, no uniforms here. In between him growing like a weed and wearing a uniform for the past several months, we are in desperate need of a wardrobe update. I had a look at his clothes, and sure enough he's outgrown most of his fall/winter clothes from last year. I bagged up his ill fitting shirts and sweaters and donated them down at the local bin.
I decided to shop online at CookiesKids.com for at least one outfit to get him excited about starting at his new school in a couple of weeks. The great part is that Cookies Kids actually has sets under each of the different age groups. Think of it as a built-in stylist for your child, with matching pants and shirt sets most for either $15 or $25. I chose the last one on the row – jeans and a matching hoodie for $14.99. If you'd like to see what others are buying for Back to School from CookiesKids.com, follow the conversation on Twitter  using #CookiesKids.
I also decided that he needs a new pair of shoes to fit his personality – fancy sneakers that he could easily dress up or down for daily wear and that should be able to withstand his fast pace. This was probably the hardest to choose, at their is truly a cool selection of name brand sneakers for boys. I narrowed it down to high tops, since he already has traditional sneakers, and then chose a darker pair of Filas.