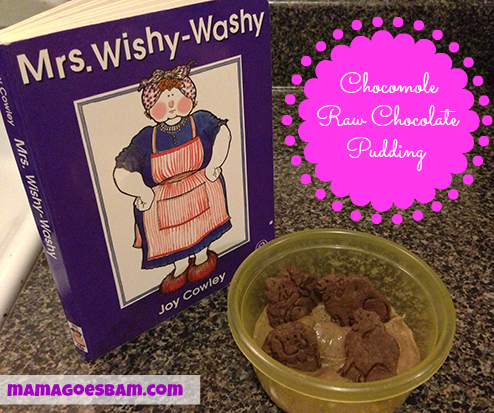 Pin this! Hover over the image in the upper right hand corner!
My 5 year old was given the book Mrs Wishy Washy by Joy Cowley when he was 3 years old. He loved it from the first moment we read it to him and it has continued to be a favorite over the last 2 years. When he started kindergarten, he was so excited when within the first week his kindergarten teacher pulled out a large board book version to read to the class. Imagine his surprise at seeing his favorite New Zealand written book, here in the United States.
His kindergarten teacher invited us in for a literacy party just before Christmas. We got a chance to look at our child's writing, and to see how they'd progressed in the first 3 months. As a special treat for the kids, they got to create Mrs Wishy-Washy's mud and dunk the animals around in it. The mud of course was chocolate pudding, and the animals were animal crackers. Now why hadn't I thought of that? Such a neat way to bring a children's book to life.
I saw 5 avocados at the store for $3 the other day and it made me think of how I could make this chocolate pudding treat with a twist. Instead of making a traditional sugary pudding, I decided to make a chocomole – a raw chocolate pudding made mainly with avocado and natural sweeteners. I used to make raw chocolate and puddings quite regularly, but hadn't made this in awhile. I had all the ingredients at home except for the animal crackers.