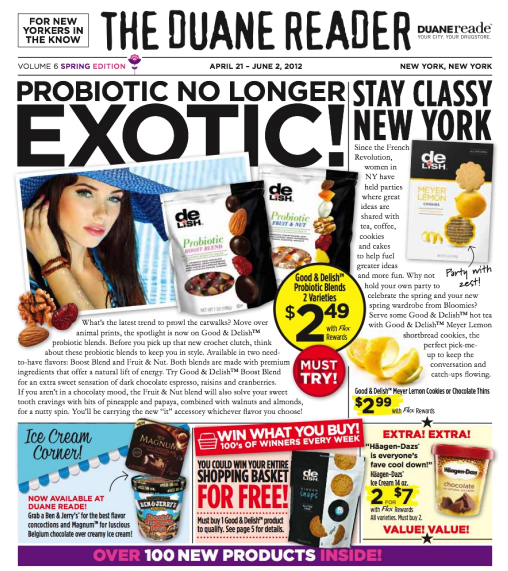 As a Duane Reade VIP, I hope to be able to share the scoop with you on some fantastic deals and going ons at one of my favorite New York shops. The Duane Reader Spring Edition is now online, there's a scoop worth checking out. I absolutely love that there is an online edition because I just about always like to browse online first before I head out to the shops. With Miss 6 months and Mr 4.5 years nearly always in tow, it is so helpful to be able to find what I want, make a list and then bring it into the store and get in and out fairly quickly avoiding kiddie meltodwns.
Not to mention, my brain is a sieve since having kids, so I ALWAYS need a shopping list – thankfully the Duane Reader online makes it easy to create one.
Above is the front page of the Duane Reader online, you can click on over to browse through it, after you've read this post of course

It couldn't have been any easier to create my shopping list on line. I clicked through from the scrolling ad on the front of the Duane Reade website and was then asked to enter my zip code. I was able to choose between my local weekly flyer and the Duane Reader. I chose the Duane Reader.
Clicking through from page to page, I was amazed at just how much food Duane Reade sells – gluten free goodies, meals for two, probiotic snacks and frozen nibbles, yum!