UPDATE: Winners have been announced here.
Valentine's Day is just around the corner, and I am so happy to be able to tell you about this ah-MAZING Pinterest Contest that is being sponsored by Chuck E. Cheese's! If you haven't been to Chuck E. Cheese's yet, why not? Chuck E. Cheese's is a great all-year round place to let the kids (and the kids at heart!) burn off some steam. If you are having the same unconscionably cold temps that we are having in NYC, then Chuck E. Cheese's is a warm fun place to escape with arcade games and even to have a bite to eat.
How Pin-tastic!
Do you have a Pinterest account? If not, again I say why not? First things first you will need to sign up for a Pinterest account to enter this fantastic contest. But hold on, before you go you probably want to know what you can win.
Five people will win a month's worth of Family trips to Chuck E. Cheese's!
It's really easy to be in to win, so read on and then get to pinning! Contest opens January 31 at 10AM EST and closes on February 12th at 11:59 PM EST.
CLICK FOR OFFICIAL CONTEST RULES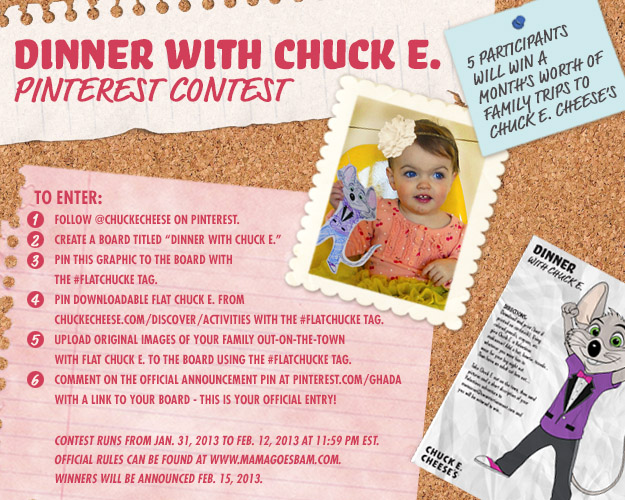 Pin this! Hover over the image in the upper right hand corner!
Follow @ChuckECheese  and @Ghada on Pinterest.
Create a board and title it "Dinner with Chuck E."
Pin the Official Announcement graphic above to your board and tag it #FlatChuckE (by writing #FlatChuckE  in the comments box, you are tagging it).
Pin the downloadable Flat Chuck E. from the Chuck E. Cheese's website and tag it with #FlatChuckE
Ok, this is where it gets really fun! Print out your Flat Chuck E., dress him up with colored crayons (tinsel, and feathers optional) and then take him for a spin on the town. We're interested in seeing where you take your Flat Chuck E. Will it be to a playground, a restaurant, a friend's house? Wherever you go with Flat Chuck E., take a picture then upload it to your board using the "Add" button from within your board. Choose "Upload a Pin" then browse to your picture of Flat Chuck E. out on the town and upload it. You have to tag this one #FlatChuckE as well.  You can upload more than one picture, but you only need one uploaded picture to be in to win. Don't forget to tag it with #FlatChuckE
You're done! BUT to be officially entered you MUST link to your board in the comments from this Official Announcement Pin.
Got it? Make sure you've pinned the 3 images mentioned in steps 3, 4 and 5 and comment on Pinterest with a link to your pin, it's that easy. Need inspiration for your board, then check out my example board. Don't worry, even though I'd like to enter I can't

Good Luck and see you back here on February 15 for the winners announcement.
By submitting your link to the Official Announcement pin,
you are agreeing to the Official Contest Rules
. Winners will be chosen by a panel  based on creativity (75%); and Pinterest user likes and comments (25%).
Make sure to click on any of the lovely social media buttons below to share this Contest with family and friends. Maybe if they win, they'll bring you with them! For more great deals from Chuck E. Cheese's make sure to follow them on Facebook.
disclosure: I have been compensated for hosting this review. As always all opinions are my own and I only share information that I feel will be of value to my readers.