Happy Mother's Day! I hope that if even for just a few minutes today you get the chance to celebrate you! I don't know what is in store for my Mother's Day except that I will happily be spending it with m 2 precious kids and Mr BAM. I try not to live a life full of regrets, but when it comes to my kids, sometimes I can't help but think about how I could have done things or should've done things differently. Hey, it's one thing to mess up your own path in life, but altogether another thing when you have your children's future in the palm of your hands. Oh mother guilt! Some days I think I could write a book on it…or at least a few chapters.
But look at them, they look pretty happy don't they?
After a particularly long and stressful week, with babysitter/nanny issues, deadlines at work, Little Miss recovering from a cold and passing it on to me, and Mr BAM traveling for work, I started to ask  myself if anything I was doing in life was actually getting accomplished at a level satisfactory enough to the high bar I set for myself. It's good to examine your life every once and awhile, make sure that things that are taking over your life are actually making you happy. But just yesterday, I also realized that it is good to cut myself some slack.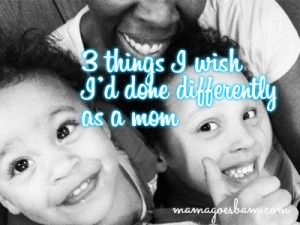 But in an effort to bear it all, and show that I too am just a mom trying to do it all (whatever that elusive 'all' is), it's not always easy and I wish I had the magic formula that made sure at any given time I was equally loving and being loved while feeling happy, healthy and fulfilled.