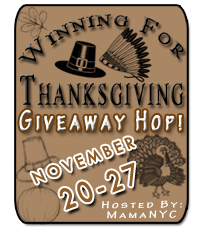 Welcome to the Winning For Thanksgiving Giveaway Hop hosted by MamaNYC! We wanted to show our readers just how much we appreciate them, so we've gathered together and have some amazing prizes up for grabs.
This event will run from November 20-27th, which means you will have plenty of time to enter all of our giveaways. Good Luck & Happy Thanksgiving!
I am giving away V8 New Year Kit, with V8 product and fun items to get ready for the New Year. This is a perfect mix of beverages to help you get back into the healthy swing of things. Have you seen V8's new 100% Vegetable Juices  – one with a hint of lime and the other a hint of black pepper. With these Zesty new tastes you are still guaranteed 2 full servings of vegetables in each 8 ounce glass, just like all V8 100% vegetable juices.