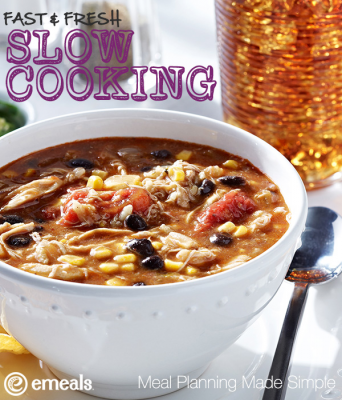 eMeals.com, the leading online meal planner,  has launched a new slow cooker meal plan to make your life even easier when it comes to getting meals on the table! Each slow cooker plan will include 7 crockpot dinners, with some timesaving "cook once, eat twice" favorites. They have both a Slow Cooker Classic plan full of tasty comfort food as well a groundbreaking Slow Cooker Clean Eating Plan that serves up quick, simple, and healthy meals. Right now, you can use discount code LUNCHFREE for a free lunch meal plan with the purchase of a dinner plan.
I know what you're thinking, slow cooker in the summer? Yes! Their are some really interesting recipes on offer like Wild Rice and Beef Stuffed Bell Peppers, Five Spice Pork Ribs and Smokey Brussels Sprouts, and Peppered Salmon Fillets with Minty Sugar Snap. I don't know about you, but my meal repertoire could definitely use some jazzing up, and if I can do it quickly by using the slow cooker, then I'm a happy mama.
Get all the benefits of Clean Eating with half the effort. Merge your busy schedule and a healthy lifestyle with the natural, fresh ingredients of the Slow Cooker Clean Eating plan.