Living in Brooklyn without a car, our little family does alot of subway travel as well as travel on foot. My Little Miss and Mr P love to travel with little action figures, sketch pads, pencils and crayons. Part of our get ready to go routine involves the kids picking out 2-3 items that they want to bring with them, and we want to help keep them entertained on the road. As Mr P has just finished his first year at school (kindergarten graduate ya'll!) he is becoming ever more and more independent – in other words, he likes to carry his own stuff.
So when my friend Jacqui  from Mee a Bee offered to send us her beautiful handmade bags, one for each I said, yes please! I met Jacqui virtually several years ago as we are both entrepreneurial moms linked by New Zealand. Jacqui is a Kiwi (New Zealander) living in Japan,  and I was living in New Zealand at the time. I have always loved Jacqui's bags!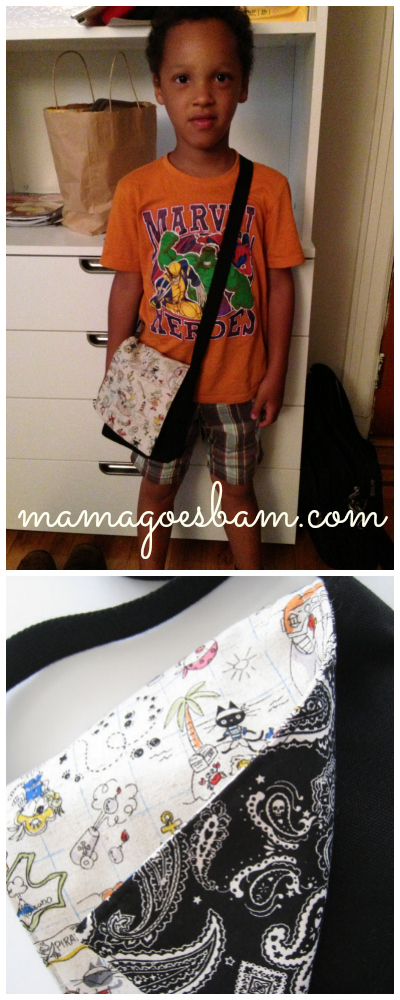 Little Miss loves wearing hers everywhere from the park to around the house.
I am blown away by the quality of the bags, as has been everyone who compliments the kids on them at the park. Handmade, made with love and care, these bags rival any big manufacturer.
Mee a Bee is for children and parents who love adventure. Created by hand in Japan you can rest assured you're buying something different and very special. Each bag starts with a base of natural cotton or linen. To that I add a specially selected whimsical printed fabric flap. The finishing touch is the soft colorful strap chosen to really make the design pop!
– Jacqui, meeabee.com
You can catch up with Jacqui through her etsy store and choose a pattern to suit your child's personality. I also like seeing more of her handmade bags and Japan adventures with kids on her instagram @meeabee.