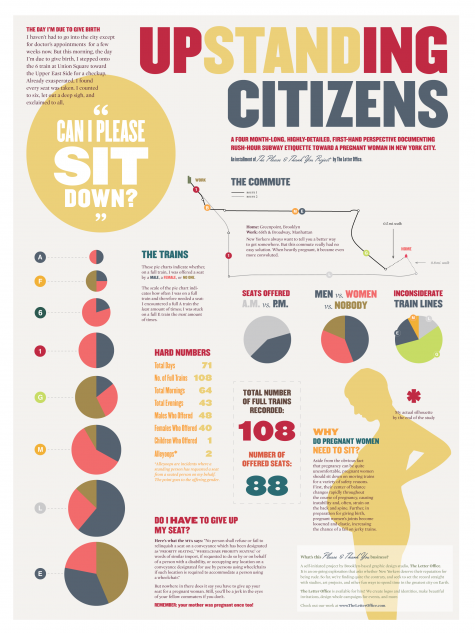 I love this infographic as I remember being obsessed with these same stats when I was pregnant with monkey #2. I spent the last 2 months of my pregnancy in Manhattan and I remember talking to my husband about the most unsuspecting people offering their seat on the subway or bus. I also remembering mentioning that the people who averted their eyes the most were men, unwilling to offer me a seat. But those men who did offer me a seat were always on young the younger side (they obviously have good mothers!). I must say I was actually really surprised that more men did not offer me a seat.
I am equally fascinated by who offers me a seat now that I am babywearing. I also now live in Brooklyn and most of my subway and bus taking happens in that borough. I actually rarely want a seat if it is a short journey, but I get offered a seat ALOT. It is almost comedic how people start to argue with me to sit. I prefer to stand and jiggle little monkey back to sleep if necessary.
The first hand data collected for this infographic relates to a commute between Brooklyn and Manhattan.
How do people treat you when pregnant and or babywearing?
Infographic from TheLetterOffice.com