I was lucky enough to be in attendance yesterday at the Brush Like A Jedi event at Ripley's Believe it or Not in Time Square. Thanks to Momtrends, my littlies and I had the chance to see the new Star Wars inspired toothbrushes from Sunstar GUM in action. My 4 year old is a big fan of the GUM® Star Wars™ Lightsaber Toothbrush. With the click of a button, the 'saber' flashes for 60 seconds, a simple mechanism to get your kids brushing for the minimum recommended time (60 seconds on top, then 60 seconds on the bottom). He couldn't wait to get it home and try it out. Because he's a stickler for rules he followed the recommended 60 seconds to the tee!
Pediatric dentist Dr. Ignelzi was on hand to share a few tips and tricks to get your toddler brushing and establishing good brushing habits for the future. He praised the toothbrushes for their ability to make brushing fun, and if its fun then kids are more likely to want to do it, right?
GUM® Star Wars toothbrushes also come in Power tooth brushes and Manual Twinpacks ranging in price from $2.99 to $5.99 and the battery operated ones come with batteries included. These have just hit the market and can be found at WalMart and Target.
5 Things to remember when it comes to your child's teeth
Sticky foods are the worst for your growing child's teeth as they turn to acid and cause cavities. Avoid fruit roll ups and gummies at all costs
White spots are the first sign of a developing cavity, get it checked out
Your child should have seen a dentist at least once by one year of age
Kids under 6 should be supervised when brushing their teeth. Until they have the dexterity to do something like tie their own shoelaces (around age 6), they might need some brushing assistance
If you can make brushing fun, you'll instill a long term habit your children will enjoy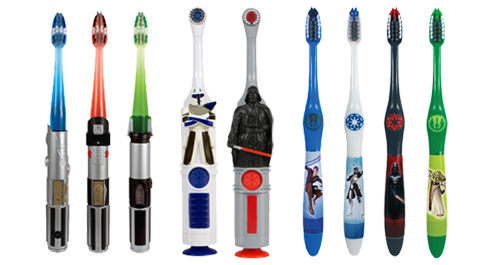 Brush Like A Jedi Sweepstakes
Like  Sunstar GUM® Oral Care Products on Facebook to go into the draw to win a trip for a family of 4 (two adults, two children) to Star Wars™ Celebration VI in Orlando, FL on August 23-26, 2012. Their are also daily prize packs of one GUM® Star Wars™ Lightsaber™, Power and Manual toothbrushes. Sweepstakes ends in just 2 days on March 15, so head over to Facebook now!
Head over to Facebook to share the Dark Side, Good Habits Video for more chances to win!
Do you have any tips for making brushing time fun in your house?