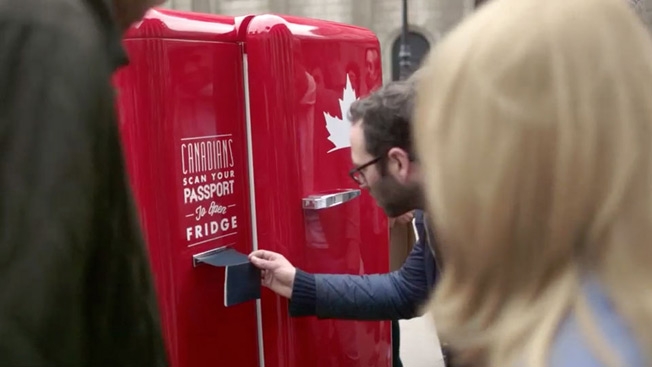 – image courtesy of Ad Week
I remember when I first started really traveling and meeting people from other countries. I sometimes jealously thought to myself, I wish my passport allowed me to stay indefinitely in such and such country or enter bladibla country and to work with little paper work. It was a silly thing to feel jealous about, seeing as I never really had the means (or money) to say stay in a tropical paradise like Mallorca for an indefinite amount of time. But, hey I couldn't help but grumble when my Canadian passport didn't even make it easy for me to work here in the US. Now a European passport, that's a key to the world…
Well today – on Canada Day – I read about this pretty cool use for a Canadian Passport – to open a fully stocked beer fridge. Yes, you read correctly. If you are Canadian, or have ventured to Canada, then you know Molson Beer, it's a staple to my brothers and sisters north of the border. Molson is the Canadian beer brand famously know for the I AM CANADIAN campaign.
Read more about the Molson Canadian Beer Fridges over at AdWeek.
Oh, and Happy Canada Day, eh!
Would you swipe your passport for a cool refreshing beer?