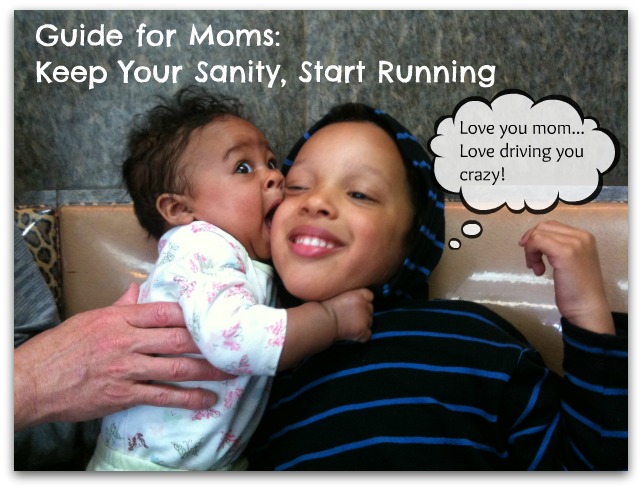 Have you ever wanted to call yourself a runner? I think everyone defines what being a runner is differently.
For me, when I took that first step out the door, put one foot in front of the other and continued to do it regularly, I considered myself a runner.
It didn't matter that I started with the Couch to 5K plan and I was only running for 2 minutes at a time with 2 minute walk intervals in between. The intention was there to run and within 9 weeks I was running for 30 minutes straight. Running is my go to activity to stay happy, healthy and sane. Every mom needs that activity that helps reset and realign, what's yours?
Often people want to run but just don't know where to start. I personally started and stopped running so many times in my life I thought I'd never be a runner. I found it difficult. My lungs ached and burned within minutes, my weak angles couldn't hold up, and I couldn't understand why in theory I thought I'd like running, but I actually wasn't really liking it at all. The C25K plan gradually gets you up to a pace your body (and lungs) can manage. When I found C25K, it all changed, it all came together for me. Since then I have run only a handful of races, but I have run pretty regularly every since. Sure, we all go through times in our lives where we can't run as much as we want – pregnancy, illness, lost of mojo…It all happens, but don't be too hard on yourself.
Apps and Websites that Rock my Run
There are a ton of resources online and in magazines for people who want to get started in running. Below are the websites and iPhone apps I use(d) personally.
Couch to 5K(C25K) is a downloadable program that hundreds of thousands of people have followed with success, including me. You run 3 times a week, starting with interval runs to help build up strength and the aerobic ability to run for 30 minutes straight. Not many people can actually run 5K within 30 minutes by the end of the 9 weeks, but when you get to 30 minutes you'll hopefully be motivated enough to get to 5K, it might take anywhere fom an extra 2-10 minutes to achieve that goal. I love love love the C25K Facebook page! It is a great place to check in with other C25Kers for support and to virtual running buddies.
Runkeeper Link up with teamates and share your runs online. This iphone/android app maps your runs and charts out your pace as well as elevation. The genius of this app is being able to program in auditory cues. So grab your C25K plan and program in the 9 weeks. A lovely lady will tell you when to walk and when to run, beats keeping track of it yourself with a watch – and, this all works with your very own playlist. Your music, your own cues, can't beat that. And as you progress with your running, it will be handy for programming in speed runs, as well as to see how quick you've become over time.
Carli's Couch to 5K and Bridge to 10K podcasts. Carli over at running into shape has created her own podcasts to go with C25K. If you like hip hop and old skool beats, it is definitely worth a download. She voices over the right cues of when to walk and when to run, plus a bit of pep talk at the beginning

I've never run a 5K race, my first race was a 10K and I was proud to go on Carli's wall of fame! I can't believe how much her wall has grown, lots of women learning to run through her podcast. Her blog is also an inspiring read of how she's changed her life for the better. Note: Bridge to 10K is a similar system to C25K to get you up to the 10K distance. I went straight to half marathon training after C25K…I needed the challenge 😉
Jillian Anderson's 30 Day Shred for strength training. Jillian's 30 day program calls for 20 minutes of exercise everyday, 3 videos which increase in intensity as the month goes on. If you have the time to do it every day, I say go for it. I've done this program a few times, the best I've ever done is about 24 days out of a 30 days a month, missing about a day a week. I still felt an improvement in overall strength and toning by the end of the month. If you continue  to run past the 5K distance or are looking to run it in under 20 minutes, you'll need to improve overall body conditioning – Jillian is a great place to start. Some hate her, I love her, she gets results in short workouts that I can manage.
A strong body will help increase your overall running. Strong abs help make you run tall and strong.