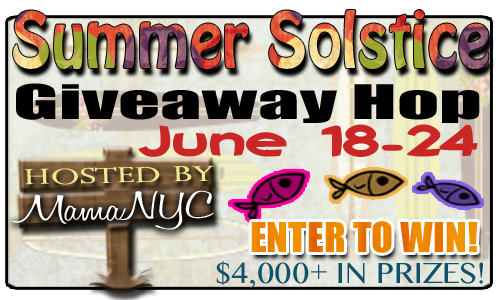 Welcome to the 2012 Summer Solstice Giveaway Hop hosted by MamaNYC! Over 100 bloggers have teamed up to bring you some amazing prizes to start your summer off right!
This event will run from June 18-24, 2012 and hopefully you'll be able to find (and win!) some great summer prizes, which will help you at the beach, BBQ, or backyard fun in the sun! Each of our giveaways features a prize value minimum of $25.00 and there is plenty of time to hop down the entire list!
I am pleased to be offering you the chance to win one of the newest and most used appliances in our house at the moment. I have been enjoying making fresh baby food for my 7 month old in my Beaba Babycook baby food. It is perfect for making fruit mixes, veggie and meat, and all other food combinations that you can then take with you on the go. With this gorgeous summer weather, you'll want to have yummy fresh food to always take with you to the beach, to the playground and even on vacation.
Good luck! I know you will enjoy your Beaba Babycook as much as I do. Read my review here.
The only required entry is your email address so that we can contact you if you win. Of course, the more entries you enter, the more chances you have of winning.