(click on image for a larger picture)
Two weeks ago was my birthday, I turned 30-something, and I decided to knock one item off my 100 Things List by figuring out how to make Banoffee Pie. Banoffee Pie you say? It is heaven on a plate – bananas + toffee equals Banoffee! I am always into cooking and baking simple, so once I figured out the ingredients for this one, I was looking forward to making it.
A tradition in New Zealand is to make your own birthday cake. So rather than others buying you a cake at work, you buy or make your own and then invite your co-workers to celebrate with you. I always thought it was a bit funny that the effort was on the birthday person, but whatever! Just go with the flow.
Their are many variations on Banoffee, but I cannot stress how super simple this variation is. I like that it makes me feel like a "real" baker because I made the crust from scratch and found out how to make toffee from evaporated milk. And I must say I feel pretty clever deciding to flavor the whipped cream

This is a perfect treat for a sweet tooth on a hot summer day.
So here goes – Banoffee Pie with Coffee Flavored Whipped Cream in less than 10 steps.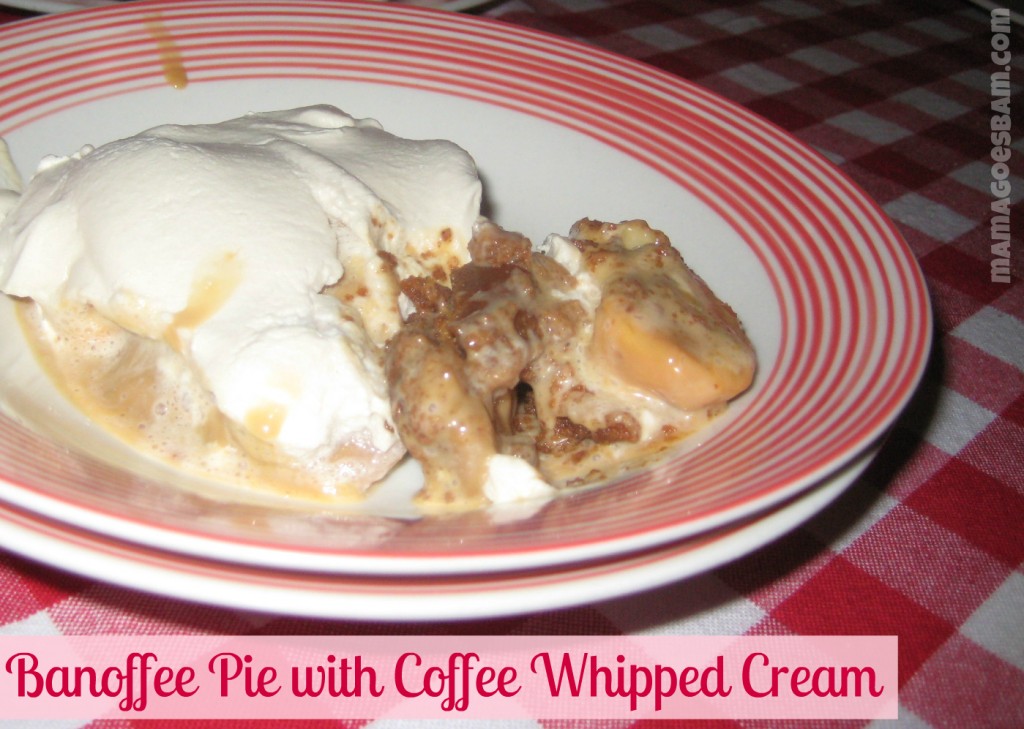 Ingredients
1 small can of sweetened condensed milk
9 large graham crackers
1 stick of butter
1 tub of whip cream
half a cup of coffee
3 bananas
9 inch pie plate
This is a yummy, but rich dessert, so you are likely to only need a small piece. Serves 8.
Directions
The morning you plan on baking, start by making your toffee. remove the label from the sweetened condensed milk and add to a large cauldron of boiling water for 2.5 hours. Make sure the can is always covered with water. I had to refill the cauldron twice over the 2.5 hours. At the end of the 2.5 hrs, you have now carmelized the milk and created toffee! You can leave the can unopened until needed.
When you're ready to start assembling the pie, preheat the oven at 350F
Next, put the graham crakers into a plastic bag and smash 'em til you get crumbs. Throw the crumbs into the pie pan and pour the melted butter over the crumbs. Use your fingers to make sure all the crumbs are covered in butter.
Use your fingers to spread the crumbs out around the bottom of the pie plate and up the sides.
Put the pie pan in the oven for 10 minutes to harden up the crust. When done, place the pie crust in the fridge to cool while you get all the parts of the pie prepared.
Slice the 3 bananas into flat pieces.
Now it's time to make the coffee flavored whipped cream. Add half a cup of your favorite brewed coffee to a tub of cool whip…then whip it up.
Now it's time to put it together. lay the banana pieces along the bottom of the crust. Open the can of toffee (marvel that yo've just made toffee!) and pour it over the bananas. Next, smooth the whipped cream over the top.
You can eat right away, but you get a messy goop like pictured above. If you like a firmer dessert, freeze it for a minute of 30 minutes. Keep in mind that bananas get very hard when frozen, so don't overdo it!
Would love to hear about your experiences with Bannoffee Pie. Enjoy!