Be naturally fit: be yourself by doing the things you love to do.
It has been just a little over a month that I was fitted with a pair of Titanium Birko-Flor Madrid Birkenstock at the FITNESS Blogger Meet & Tweet here in NYC. I had never worn Birks before, but my sister swears by them and one of my fellow conference goers said they were so comfortable she had several pairs at home she used as house slipper – needless to say I was pretty game to try them. Different from any other sandal I've ever worn they have a toe box, a heel cup and arch support. I could see why someone like my sister with relatively flat feet loves these. The ridges are quite obvious to the touch the first time you put them on, but the more you wear them, the more they mold to your feet, and this is a good thing.
I couldn't have been happier with the color I was given to take home as a gift for attending the event. A new season's color, Titanium goes with so much of my wardrobe as it shimmers in the sunlight, sometimes looking more olive colored, and sometimes looking a little bit more golden.
I've worn these bad boys everywhere and consider them a bit of a lifesaver with the warm weather we are having.
Ok, I might gross you out a little because I'm gonna talk about my feet. I have hard working feet, then again most mamas do. I've spent most of my life pounding the pavement doing some sort of sport. From my late teens til my early twenties I worked in jobs where I had to stand for long hours as a shopkeeper, racing around in *ahem* fast-food or running after rugrats as a Camp Director. Needless to say, my feet have endured much and have the callouses, hard skin and bunions (inherited from my mama) to prove it. So, when the weather warms up, I like to wear light airy shoes. In the first instance I used to wear flip -flops, but let's face it these are KILLERS on your feet. I can only endure wearing these for a quick walk up the street, but there is no way I can wear these for an extended period of time or daily – trust me, I've tried. I end up the next day feeling like I've been hit by a bus with sore ankles, swollen feet and even sometimes lower back pain.
Until now, I hadn't found the solution to a cool, breezy and most importantly cute shoe that I could wear if I was planning lots of walking. I've also had pelvis issues and a history of twisted ankles (yes! I know I'm a mess!) so I had to rely on running shoes. Running shoes are great for running, but not at all practical (or cute!) for a day out and about around the city especially on a hot day.
That is where my new Birkenstock have been so handy. They are comfortable, cute and offer me support over a long period of time.
Now what mama, couldn't use those traits in an everyday shoe?
I've worn these shoes just about every day except the super rainy days we had at the beginning of the month. I walk more than the average person because I love walking as a form of transport. It clears my head, its free and sometimes even quicker, and definitely less smelly than public transport. I guesstimate that I walk on average 5,000-7,000 steps with running errands, walking my son to school and just life in general – add to that the regular actual running I do, that's a lot of steps for my weary feet (a little more than the average, yet I could still do more to lose weight).
I've walked the Brooklyn Bridge, Walked South Beach in Staten Island, Strolled Montauk in the Hamptons and pounded Broadway for clothing sales all in these shoes. They go great with jeans, skirts and even dresses. I'm sold!
One of the best tips I was given about my Birkenstock is that they can be used as the perfect bridge for throbbing feet post run. When you throw your socks off, going straight to bare feet on the floor can be achey. I've slipped on my Birks after a run and it has been like walking on air.
My only issue with my Birkenstock sandals is that now I have to keep on top of having nicely manicured toes since I am no longer hiding my feet away.
If you want to read more about how Birkenstock sandals support healthy feet for busy people, check out the Birkenstock website.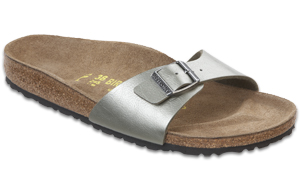 What's your summer shoe style?
I was given these shoes as part of my attendance at the FITNESS Blogger Meet & Tweet but was under no obligation to write about them on my blog. I am writing about them because they are just that good. All opinions are 100% my own.