Sometimes it can be hard to find events the whole family will love, so that's why when festivals and fairs like the ones below are on, it's fun for all. We all love food, we all love music, so these choices are no brainers.
Tribeca Family Festival Street Fair I love this area of town and I'm praying for good weather so we can head on in to experience all the buzz. Their will be free movie screenings plus all that you would expect in a street fair. I'm looking forward to the live Broadway performances and I'm sure the kiddies will enjoy it too! You can see a list of the street performers, restaurants and free movies that will be on tap on Saturday, April 28 – that's tomorrow!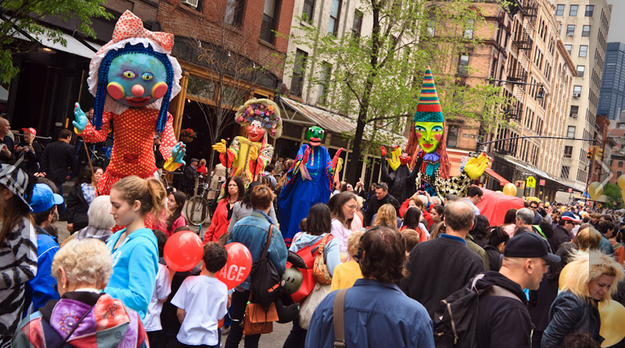 -photo courtesy of Tribeca Film Festival
The Great Googa Mooga Festival in Prospect Park happens over 2 days from May 19-20. They announced some of the musical performances this week, and if I didn't already have plans for the Saturday (Hello, Brooklyn Half Marathon and inlaws arriving from New Zealand!) It would have been a hard choice. So free tickets are booked for Sunday. Can you say Darryl Hall & John Oates and Lez Zeppelin (yes, I thought the first time I saw it it said "Led" but alas no, I think its a cover band). I would have loved to see The Roots on Saturday though. Music and food means the kids will love it, Brewers and Winemakers means a fun time for all the big people 😉 Unfortunately, free tickets are now all gone, but there are "Extra Mooga" tickets that will set you back about $250.
Prospect Park Food Truck Rally rolls into Prospect Park every 3rd Sunday of the month until October, May's version will be on May 27 – my guess is to accommodate the above mentioned Googa Mooga! Everything from cupcakes, to Kimchi and lobster all served from some of the city's best food trucks! See you at Grand Army Plaza next month.
– image courtesy of Prospect Heights Patch
Do you love hitting festivals with your kids, or does it give you a headache?