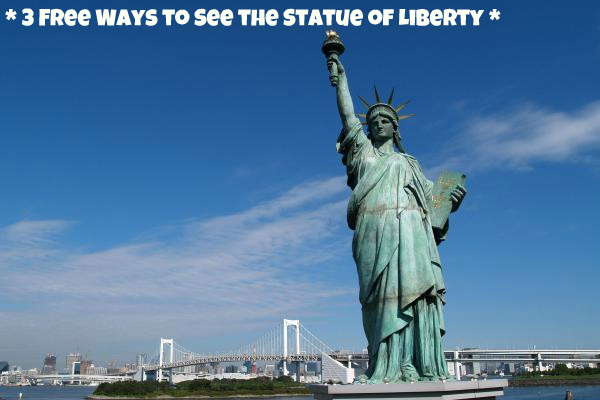 The Statue of Liberty is one of those awe inspiring figures that symbolizes not only New York but the United States of America. Lady Liberty is steeped in rich history and so much meaning to people who live in this country. If by some chance you don't know the Statue of Liberty, here's a bit about her from Wikipedia,
A colossal neoclassical sculpture on Liberty Island in New York Harbor, designed by Frédéric Bartholdi and dedicated on October 28, 1886. The statue, a gift to the United States from the people of France, is of a robed female figure representing Libertas, the Roman goddess of freedom, who bears a torch and a tabula ansata (a tablet evoking the law) upon which is inscribed the date of the American Declaration of Independence, July 4, 1776. A broken chain lies at her feet. The statue has become an icon of freedom and of the United States.
Don't get me wrong, getting up close and personal with the Statue of Liberty is a must on my bucket list but at the moment she is closed for construction til later this year, so I hope to be able to catch a ferry to see and walk her once she reopens. In the meantime, I've enjoyed these free and fun ways to get a look at her. Trust me, these 3 ways are still pretty amazing.
So is she on Liberty or Ellis Island?
The Statue of Liberty itself is on Liberty Island, but the Immigration Museum is on Ellis Island. Again, I haven't been to the museum but I've heard its definitely worth a visit.
So, in the meantime you can avoid the lines and wait til you are able to climb aboard her crown and try these 3 free and fun ways to get a glimpse of the statue of Liberty from Brooklyn. Each has an interesting vantage point, is relatively hassle free and you'll expereince more than just the Statue.
Valentino Jr Park, Red Hook, Brooklyn
Grab a picnic basket, the kids and head to Valentino Jr Park right at the South Western tip of Brooklyn.
How to get there: Take the subway to the 4AV stop on the F or G train and transfer to the B61 bus. It's then just a short 5 minute walk through this industrial area to this vary quaint park. There are plenty of trees for shade and lots of lush green grass. Though there isn't a playground, there is lots of space to run and a pier that Mr 4.5 enjoyed walking up and down. At the end of this pier is where you'll get your best vantage point for the Statue. That is where I took this picture of me holding the Statue of Liberty in my hand. Neighborhood kids throw off their clothes and go for a swim, not really my cup of tea so close to the city, but if your keen the option is there. My little guy went wading in by the rocks to cool off. You also get a nice view of the One World Trade Center.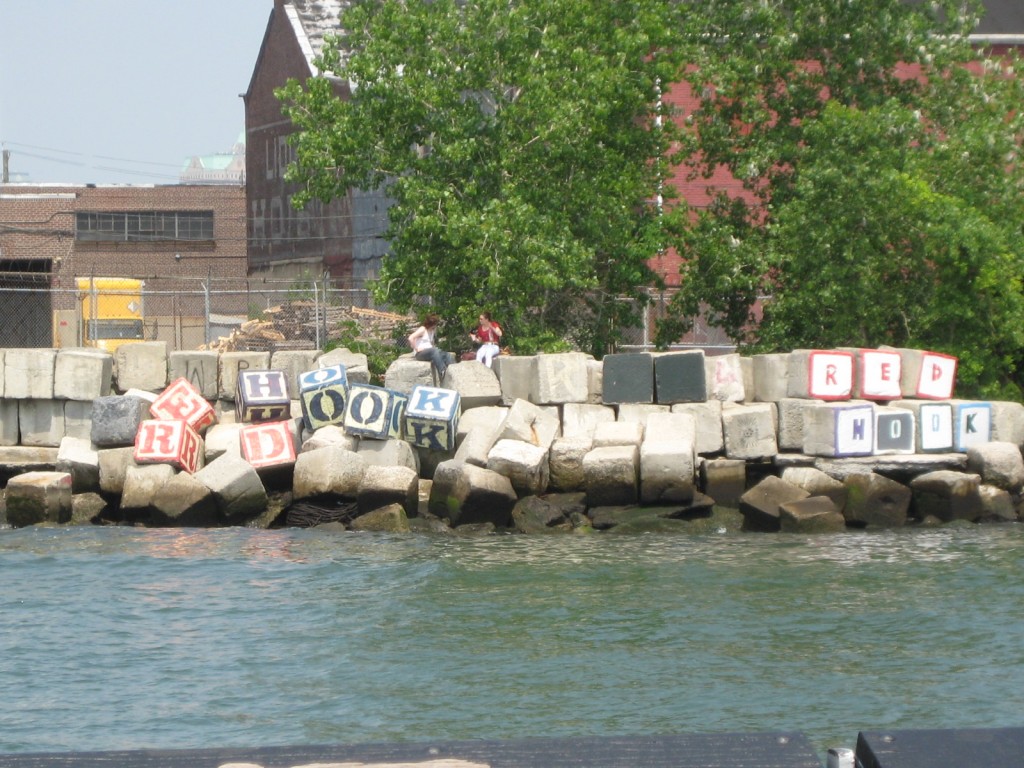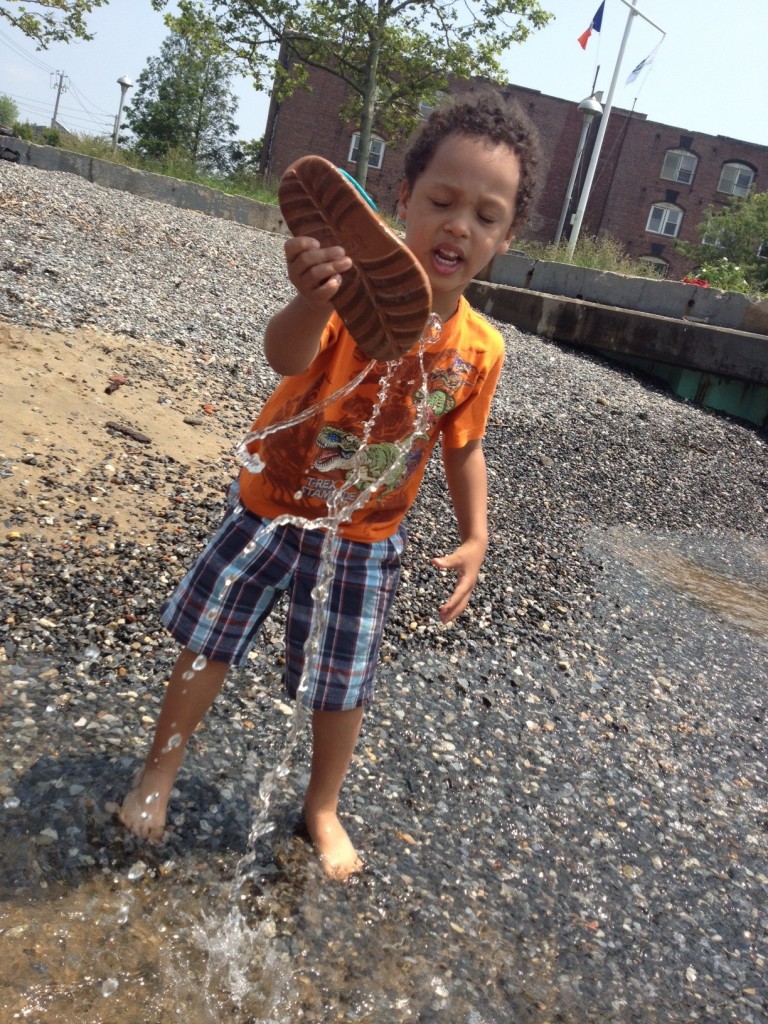 Free Ikea Ferry
Walk back around to Ikea and stop at Fairway on the way to pick up fresh produce or just to rest your feet and have a coffee. We did this walk during Fleet Week, so it was awesome to see planes overhead as well as majestic yachts and boats on the water. There is alot of history in this area, so enjoy the walk and even strike up a conversation with the volunteers in the area that can point you in the right direction depending on what you are looking for – markets, famous key lime pie, Ikea or Fairway Market.
On the weekend you do not need to produce an invoice from Ikea, you just line up and board the ferry that arrives every 15 minutes. During the week, you apparently have to produce an Ikea invoice to board. The Ferry will drop you off in Manhattan – from there you can take a subway to wherever you need to go. The views of the Statue of Liberty and the cyclists on Governors Island are pretty nice…and free.
Walking the Brooklyn Bridge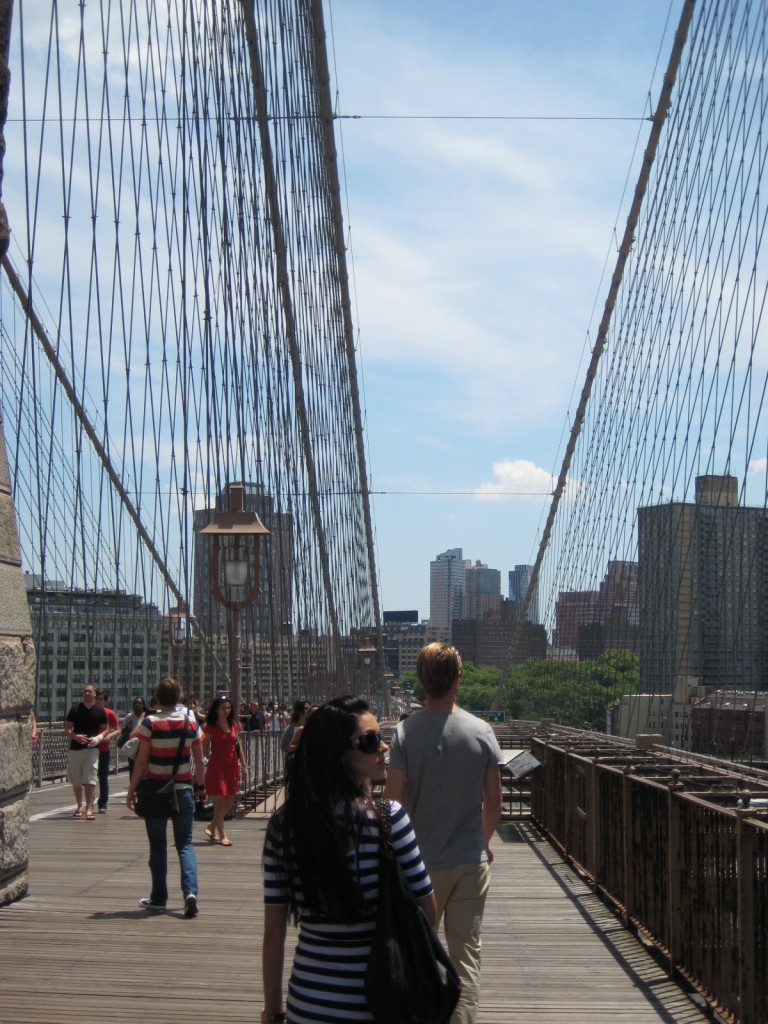 I did this walk from the Brooklyn side, but you can just as easily do it from the Manhattan side. You get a good look at DUMBO, the Brooklyn Bridge Park, the Manhattan Bridge, the Chrysler Building and of course the Statue of Liberty and so much more. Their are some areas of congestion  where the great photo ops are and a bit of hustling and bustling as the pedestrian walkway is fairly narrow considering it is divided up in 2 – one side for walkers, the other side for cyclists (who may or may not mow you down if you step in there lane – you have been warned!) It's great to be so high atop the city and it is nice and cool up there. My 4 year old did the walk effortlessly, just take your time and enjoy the views, so anyone can do it. There are plenty of parks on both sides and much more choice of vendor food on the Manhattan side once you get off.
Have you seen the Statue of Liberty before? If not, is it on your bucket list?