Both of my little monkeys each arrived earthside 3 and a half weeks early. While I was pregnant with number 2, doctors told me that I was 90% likely to deliver this one early seeing as number one was early. You think we would have been better prepared, but nope we weren't.
I guess I'm pretty cruisy when it comes to the business of giving birth, even with all the craziness of moving continent and switching from a midwife to a doctor with number 2, I knew I only needed a few things to safely welcome my baby into this world. With all the major department stores and online stores pushing "stuff" necessary for baby it can sometimes be hard to sift through the non-essentials. Really, all baby needs is your love, a place to sleep and to be fed.
My absolute must-have for the first few days at home with baby is a sling!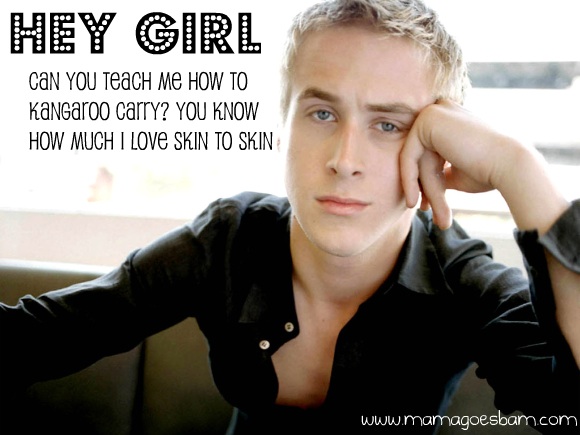 Babywearing came natural to me. With my babies weighing in at less than 6lbs each when we arrived home, they were both sleepy and small, so wearing them just felt right. With my first born, my midwife mentioned the importance of our bodies getting into rhythm with each other to help my milk come in and to help baby get used to life on the outside. Wearing him was one of the easiest ways for us to get into sync with each other and to help ease his early release from my womb.
If you're on the fence about babywearing (attachment parenting) but really want to be convinced, below are 10 of the more fashionable reasons to babywear.
No time or desire to get to the gym just yet? Hide your 4th trimester muffin top behind a sling.
A sling can be the ultimate fashion accessories coming in an array of colors, patterns, and even fabrics. Switch up your everyday sling so that it color coordinates with a bracelet or shoes. Just because you're tired, doesn't mean you can't be fashionable!
Actually get things done when you want to – babies are notorious for falling asleep when worn. Need to make dinner? Place baby in the sling and you'll be able to get dinner done…Be careful when eating and wearing, it can sometimes be a hazard. I'd recommend NOT eating or drinking hot food or beverages while wearing your baby
Because expecting your baby who has lived in the cocoon of your womb for 9 months to now spend most of her day in a bassinette  and sleep by herself is cruel and unusual, especially seeing as you get to sleep with your husband.
Don't forget to let Dad sling it! It's a perfect way for him to get some bonding time in. I know my husband appreciates it. Again, if hubby has a "sympathy gut" he can hide it behind the sling as well.
Avoid plumbers crack in the subway by carrying your baby. The amount of times I've seen mamas huffing and puffing to fold up their strollers so they can schlep baby, stroller and even sometimes a toddler up steep stairs. It is probably the same amount of times that I have seen that same woman's butt crack. I prefer my more dignified walk up the stairs with baby attached to me.
Workout without breaking a sweat. Wrap that baby on, stand up straight and walk! I myself prefer running, but hey, a good walk is good for both you and baby. Ever notice how well baby sleeps after some time in the fresh air? I was lucky to have #1 on the cusp of New Zealand summer so I walked alot with him. You will naturally build up strength in your back if you concentrate on walking tall.
Under eye bags are not cool. I know cause I have them. Sometimes it is avoidable and babies fuss, but they do settle more when worn…do I have to say it again, wear that baby!
I've got a running stroller that I love and an everyday stroller that i do not love so much. I loved it with Monkey #1, but that was over 4 years ago, it's seen better days. While I consider my stroller options, I continue to wear Monkey #2 which is far less expensive than a stroller. Check. it.
If Ryan Gosling says skin to skin is good…well….
For more Ryan Gosling "Hey Girl" memes, check out the one-stop shop tumblr
The text in the Ryan Gosling image is an original creation by me